Mohd Nasiruddin, Abu Ghani (2014) Factors affecting choice of cafeteria among Universiti Utara Malaysia students. Masters thesis, Universiti Utara Malaysia.
Text




s810071.pdf


Restricted to Registered users only
Download (1MB)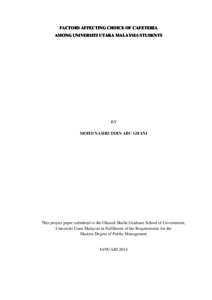 Preview
Text




s810071_abstract.pdf


Download (789kB) | Preview
Abstract
The purpose of conducting this research project is to examine the factors of food quality, service quality, menu, price, convenience as well as cleanliness that influenced customer satisfaction towards cafeteria operating in Universiti Utara Malaysia, Kedah West Malaysia. To attain the objectives of this research, research questions and six hypotheses are being developed and tested. Furthermore, each hypothesis is measured accordingly while the results obtained are being subsequently explained by the researcher. Literature reviews included in this research project further strengthened the theory and better understanding of the factors affecting choice of cafeteria among UUM students whole at the same time provide evidence to support the theory. Primary data were collected using questionnaires being distributed fro a total of 200 sets throughout UUM students. Using Statistical Package for Social Science version 19.0, data that had been collected from the questionnaire being analyzed using tables and charts. In addition, findings of the research are also being discussed in order to understand the relationship between independent variables like food quality, service quality, menu, price, convenience and cleanliness with dependent variables that is customer satisfaction. After the data being analyzed, the researcher concurred that all the factors are significant and having high percentage of importance towards affecting the choice of cafeteria among UUM students. Managerial implications are also being discussed to provide professional insight to the operators about the factors in demand and in trend towards customers satisfaction. Further research are being discussed as information lies in limitations factors can assist future researchers towards providing better research about the factors affecting choice of cafeteria.
Actions (login required)