Jannatul Firdaus, Ismail (2011) Internationalization process of large-sized firms : Evidence from Malaysia. PhD. thesis, Universiti Utara Malaysia.
Text




s90765.PDF


Restricted to Registered users only
Download (7MB)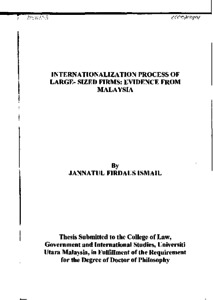 Preview
Text




s90765_abstract.PDF


Download (7MB) | Preview
Abstract
International expansion is an initial strategy for firms particularly from emerging countries like Malaysia to be in the global market to deeply engage in a process known as
internationalization. The internationalization process among firms from emerging countries depicts some variances from developed countries due to the internal and external differences between them. There were some patchy and qualitative evidences on internationalization of emerging firms but there remains insufficient in providing a conclusive model. This research attempts to fill up the gap by contributing some empirical evidences quantitatively which is exceptionally limited, on the internationalization process or firms from emerging countries. Generally, this study
endeavors to examine the internationalization process of Malaysian firms into foreign
markets by focusing on the firms' internationalization advantage. intensity and their effects on the entry mode and foreign market selection. Specifically, this study aims to determine the relationship between internationalization advantage and
internationalization intensity; identify the effect or mediating and moderating forces
between internationalization advantage and internationalization intensity: and finally
propose an internationalization framework for Malaysian firms to formulate their international expansion strategy. Quantitative method was adopted through a survey by using questionnaires to firms that were sampled from the Malaysia Bourse (BM) directory. 100 companies participated in the study. Regression and Hierarchical nMultivariate Regression Analyses (HMRA) were utilized to examine the hypotheses and hierarchical regression analyses were conducted in analyzing the moderating role of motivation and network as well as mediating role of barriers between internationalization
advantage and internationalization intensity. The research found that there is a relationship between firms' internationalization advantage to go abroad and their internationalization intensity. The findings also suggest that motivation and network can intervene the firms' internationalization process while barriers can temperate the process. This study also indicates that barriers moderate the internationalization before and after the process had taken place. 'This study highlights the internationalization process of Malaysian firms which represent emerging countries which has been neglected by internationalization theories developed in industrialized economies.
Item Type:
Thesis (PhD.)
Supervisor :

Hashim, Fariza

and

Abdul Ghani, Ahmad Bashawir

Item ID:
4547
Uncontrolled Keywords:
Internationalization Process, Internationalization Advantage, Internationalization Intensity, Motivation, Network, Barriers
Subjects:
H Social Sciences > HD Industries. Land use. Labor. > HD28-70 Management. Industrial Management
H Social Sciences > HD Industries. Land use. Labor. > HD62 Standardization. Simplification. Waste
Divisions:
College of Law, Government and International Studies (COLGIS)
Date Deposited:
13 May 2015 08:05
Last Modified:
26 Apr 2016 02:44
Department:
College of Law, Goverment and International Studies (COLGIS)
Name:

Hashim, Fariza

and

Abdul Ghani, Ahmad Bashawir

URI:
https://etd.uum.edu.my/id/eprint/4547
Actions (login required)