Nurfarahain, Zainol (2015) Labour force participation of local youth in the oil palm plantation: Case study in the selected states of Northern Malaysia. Masters thesis, Universiti Utara Malaysia.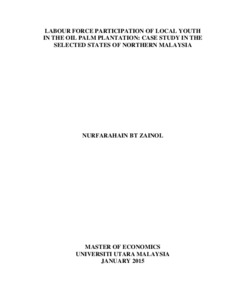 Preview
Text




s814422.pdf


Download (1MB) | Preview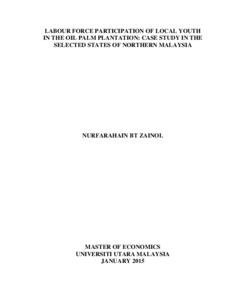 Preview
Text




s814422_abstract.pdf


Download (448kB) | Preview
Abstract
The Malaysian oil palm industry is labor-intensive, especially in the oil palm plantations. It is reported that in 2013, the total number of plantation workers comprise of 69% foreigners and 31% local. The small number of local participation indicates their lack of
interest to work in the industry and this urged the industry to resort to employing foreigners. The issues of rising social and security problems related to foreign workers; as well as the increasing the cost of foreign workers following higher recruitment costs, thus
affecting the cost of palm oil production. The best solution is to locate the local labor
youth in oil palm plantation sector. This study aims to investigate factors of labor shortage in oil palm plantations among local labor youth in Perak, Perlis, and Kedah. By identifying factors that can attract more local to work in oil palm plantation, Malaysia can reduce dependency upon foreign workers. A survey method through questionnaire was used to collect data using random and purposive sampling method. A total of 332 respondents in FELCRA and FELDA were analysed using Probit model. Finding shows that age and race are positively significant with the probability to participate in oil palm plantation. Whereas gender, marital status, level of education, parents's jobs are negatively significant. Imposing policies that improve the plantation environments, job's status, facilities and benefits will help to attract local youth to participate in plantation sector, specifically the oil palm.
Actions (login required)