Azizul Rahman, Sapahin (2014) Factors determining consumer purchasing intention towards counterfeit sportswear. Masters thesis, Universiti Utara Malaysia.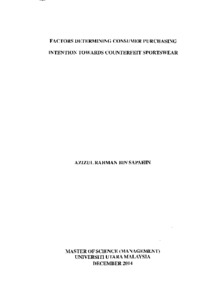 Preview
Text




s815939.pdf


Download (3MB) | Preview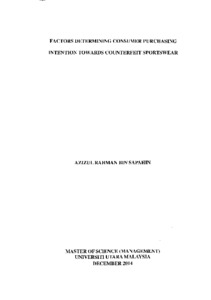 Preview
Text




s815939_abstract.pdf


Download (3MB) | Preview
Abstract
Increased trading activity involving counterfeit goods was worrying and had become
a main intimidation towards the economy. Fast innovative advancements, growth in sportswear industry and increased in government effort in promoting healthy lifestyle have helped foster the development of this issue. In this study, relationship between consumers purchasing intention towards counterfeit sportswear, attitude towards counterfeit sportswear, subjective norms and perceived behavior control were analyzed in the context of Malaysia. This research studied the purchase intention of
consumers using Theory of Planned Behavior as the underpinning theory. The Theory of Planned Behavior by Ajzen was adapted in this study with moderate impact of moral judgement. Data was collected through self-administered
questionnaires that were distributed to 454 respondents at shopping malls and night markets in Klang Valley. This paper used Pearson Correlation Coefficient and Multiple Linear Regression analysis to study the purchasing behavior towards counterfeit sportswear. Results showed that except for perceived behavior control which shows insignificant relationship, all other independent variables were significantly and positively related to the dependent variable. Moral judgement was
found to be insignificant as a moderator between all the independent variables on
intention to purchase counterfeit sportswear but nonetheless was useful to be a predictor variable. This study could help related parties such as the government agencies, genuine marketers and product producers to understand better why consumers prefer counterfeit sportswear products. The study answered the research questions and accomplished its objectives and supported the notion of the theory of planned behavior on purchasing intention towards counterfeit sportswear in
Malaysia.
Actions (login required)