Ibrahim, Jibril Sahban (2014) Adoption of cloud computing in higher education institutions in Nigeria. Masters thesis, Universiti Utara Malaysia.
Text




s815390.pdf


Restricted to Registered users only
Download (1MB)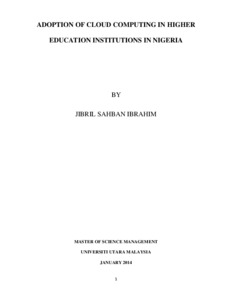 Preview
Text




s815390_abstract.pdf


Download (906kB) | Preview
Abstract
The study examines the adoption of cloud in the higher educational institution in Nigeria. The
nine variable were used to examine the adoption of cloud computing in order to make a decision
by HEIs management in Nigeria to see the usefulness to adopt cloud as well as the benefit and significance on cloud computing. The nine factors were examined in this study there are: relative advantage, compatibility, complexity, trailibility, top management, firm size, amount of information, pressure coercive and quality of internet connection. This study was adopted innovation diffusion theory. Technological, organizational environmental (TOE) and technology acceptance model to explain the adoption of cloud computing in HEIs in Nigeria. Quantitative method was used to collect data by distributing the questionnaire to 200 people from higher education institutions in Nigeria. The finding in this study was used smart (PLS) to analyze the
date which seven variable were supported and the three were not support to explain the adoption of cloud computing in higher education in Nigeria. this study was carried out in the higher educational institutions in Nigeria to adopt cloud computing, this study is limit on generalize the findings. this study encourage the management in HEIs to make move on cloud computing to their education by a start from trailability to perceive the benefit on cloud computing.this study is contribute to the higher educational institutions to try to adopt cloud computing as new technology to transform and seeing what way to benefit to their educational system. This study recommends to the management to support and make the decision to adopt cloud computing without their support no cloud computing adoption.
Actions (login required)