Baba, Mukhtar (2014) Relationship between entrepreneurial orientation, entrepreneurial education, self-efficacy and entrepreneurial intention among undergraduate students at Nigeria universities. Masters thesis, Universiti Utara Malaysia.
Text




s814246.pdf


Restricted to Registered users only
Download (1MB)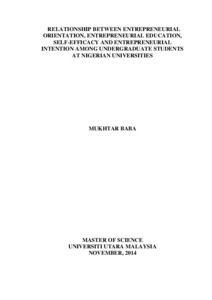 Preview
Text




s814246_abstract.pdf


Download (787kB) | Preview
Abstract
Like most of the developing countries, Nigeria is facing the problem of youth unemployment. Among the strategies used by these countries to overcome this problem is to get their youths to be engaged in entrepreneurial activities with the ultimate objective of becoming self-employed and self-reliant. Similarly in Nigeria, the government has introduced several policies aimed at eradicating poverty by encouraging self-employment among youths. One of such policies is the introduction of entrepreneurship education into the curriculum of higher education which is aimed at promoting and inculcating entrepreneurship amongst the university students. Hence, this study examines the determinants of entrepreneurial intention among undergraduate students at Nigerian
Universities. Primarily, this study explored the role of entrepreneurial orientation,
entrepreneurial education, and self-efficacy on students' intention to become entrepreneurs. A total of 242 students who have taken business related subjects from Bayero University Kano (BUK), Nigeria and Bauchi State University Gadau (BASUG) participated in this study. The results showed that all the independent variables; entrepreneurial orientation, entrepreneurial education and self-efficacy are significantly and positively related to entrepreneurial intention. The findings of this study provided useful inputs for the Nigerian Ministry of Education with regard to designing a more beneficial and comprehensive entrepreneurship related course contents and curriculum in Nigerian universities. This is aimed at preparing the students for self-employment as entrepreneurs which will assist the government's efforts in overcoming youth unemployment and poverty in Nigeria.
Actions (login required)