Musa, Idris Idris (2015) Impact of external debt on economic growth in Nigeria. Masters thesis, Universiti Utara Malaysia.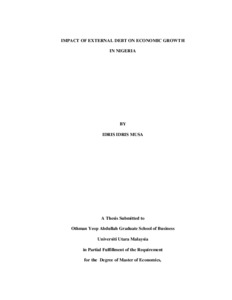 Preview
Text




s815007.pdf


Download (621kB) | Preview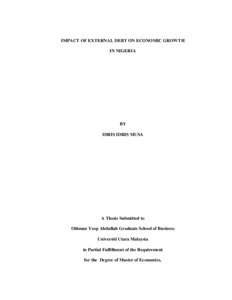 Preview
Text




s815007_abstract.pdf


Download (182kB) | Preview
Abstract
The objective of this study is to examine the long run and short run impact of external debt and external debt service on the economic growth of Nigeria over the period 1980-2013. This study employs Johansen cointegration approach and Vector Error Correction Model for analyzing long-run and short-run relationships among the selected variables. The causality among the external debt, external debt service and economic growth has also been examined using Granger causality test for the period under consideration. The empirical results show that external debt has a significant negative effect on the economic growth in the long run. External debt service has a significant positive effect on growth in the long run, suggesting no crowding out effect on investment. There is no significant short run relationship among the variables under consideration except for the first lag of real exchange rate, but the error correction term has a moderate speed of adjustment with correct sign and it is significance. The study also finds uni-directional causality running from economic growth to external debt. It is found that there is no causality between external debt service and economic growth. Finally, external debt service has been found to Granger cause external debt, but there was no feedback. Therefore, as policy suggestions, projects to be financed by external debt should be well-appraised and must be self-liquidating, while the guidelines for external debt acquisition and approval should be strengthened.
Actions (login required)