Mary Macdalena, A Komuji (2010) Kesan penyeliaan pengajaran dan pembelajaran dalam kalangan guru sekolah menengah. Masters thesis, Universiti Utara Malaysia.
Text




s802655.pdf


Restricted to Registered users only
Download (3MB)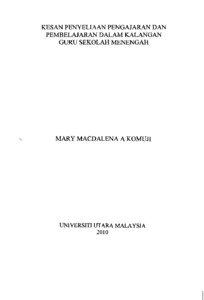 Preview
Text




s802655_abstract.pdf


Download (3MB) | Preview
Abstract
Effects of Supervision on Teaching and Learning amongst Secondary School Teachers. This study was carried out to determine the effects of clinical supervision on the teaching performance of teachers in the classroom. This study involves 33 teachers from a secondary school of which 11 (33%) are male teachers and 22 (67%) are female teachers. The study employed a set of instruments for observing teaching and learning which was adapted from "instrumen pemastian standard" (IPS) (2003) from the School Inspectorate, Ministry of Education Malaysia and is used by all school to evaluate dimension III, education program management, element 9 that is teaching and learning. The teaching performance of teachers is measured based on writing of daily lesson plan, induction set, lesson delivery, questioning techniques, student involvement,
reinforcement, student exercise and assignment, checking of student exercise and assignment, lesson closure and class management before and after clinical supervision. The data is analysed using SPSS statistic version 12. Descriptive statistics was used to obtain the mean and standard deviation whereas inferential statistics such as paired sample t-test was used. The results obtained showed clinical supervision has an effect on the teaching performance of teachers in the classroom. The findings also showed teaching performance does not differ based on gender or teaching experience. The result of the study will be able to help teachers in the school and Ministry of Education Malaysia to improve supervision of teaching and learning in schools and to improve performance of teaching.
Actions (login required)