Nor Azlina, Mat Ariff (2011) Academic class labeling on the self-esteem and academic performance of form 2 students: A re-examination. Masters thesis, Universiti Utara Malaysia.
Text




s88229.pdf


Restricted to Registered users only
Download (1MB)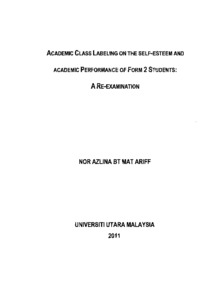 Preview
Text




s88229_abstract.pdf


Download (1MB) | Preview
Abstract
The purpose of this study was to determine the significance of the class labeling system used in schools on the students' academic self-esteem and academic performance. The Kruskal-Wallis One-Way Analysis of Variance and Pearson Product Moment Correlation were used to analyze the data. The researcher also included socio-economic status and sibling position as two contributing factors that may influence the individual's self-esteem. The researcher used the respondents' total score of Form 1 End-year Examination result to determine the relationship between the students' self-esteem and their academic performance. A specific school was chosen based on the class labeling system that they used. The researcher randomly selected Form 2 students in that school as the respondents for this research. The translated version of the Rosenberg's Self-Esteem Scale was used as the research instrument in the study. Based on the results gathered from the analyses, the researcher concluded that there is a statistically significant relationship between class label and students' academic self-esteem. In contrast, there is no
significant relationship between academic performance and self-esteem, self-esteem and socio-economic status and self-esteem and sibling position. However, the results from this study could not be generalized to all students because this study has a small number of population and only involved one school in one particular state. Therefore, the researcher would also like to suggest to future researchers who are interested to do a study on a similar area to conduct a larger scale study with a larger population so that the results obtained from the study could be generalized to all students particularly in Malaysia. The researcher also hoped that through the findings gathered from this study, a better class labeling system that does not affect the students' academic self-esteem could be implemented in schools.
Actions (login required)