Chow, Choon Wooi (2002) Makmal Maya Membantu Pencapaian Dan Motivasi Pelajar Terhadap Mata Pelajaran Kimia. Masters thesis, Universiti Utara Malaysia.
PDF




CHOW_CHOON_WOOI.pdf

- Submitted Version
Restricted to Registered users only
Download (7MB)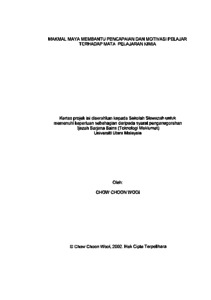 Preview
PDF




CHOW_CHOON_WOOI.pdf


Download (7MB) | Preview
Abstract
Virtual chemistry lab is digital software, which is able to enhance students' motivation to learn chemistry. The chemistry concepts, which are taught and lectured, will be further explored in labs. A survey has been carried out in Kolej Matrikulasi Perlis(KMP), Kementerian Pendidikan Malaysia to identify the problems encountered by the
students when learning chemistry. The elements of the research were students' readiness (SD), students' confidence (KYP), writing a report (MLA), lab operation cost (KDM), students' achievement (PCP), and actual theory (ASB). A number of forty students were taken as sample
and these students were given the experience in using the virtual chemistry lab. The finding showed that the students were more prepared and more confident in the subject. In addition, the result showed that there was an improvement in the students writing their reports. It was
also found that the overall cost in operating the labs was less. Hence, virtual chemistry lab was found to elevate the students' motivation in learning chemistry; the students were more prepared and this would enhance their conceptual knowledge, thus, the students' result were
found improved.
Actions (login required)