Anthony, Nely (2009) Persepsi guru-guru terhadap peranan Guru Besar dalam pelaksanaan program perkembangan staf di sekolah rendah dalam daerah Padawan, Sarawak. Masters thesis, Universiti Utara Malaysia.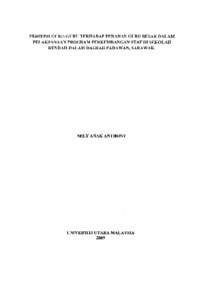 Preview
Text




s802756.pdf


Download (3MB) | Preview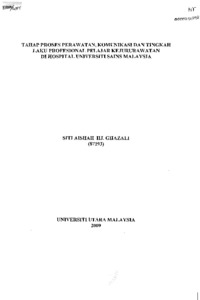 Preview
Text




s87193.pdf


Download (2MB) | Preview
Abstract
The main purpose of this study is to identify teacher's perception towards staff development programme at 4 primary schools in Padawan District, Sarawak. The objectives of this study are to identify the teachers' perception i.e. suitability, planning, implementation, evaluation, support, and to study teachers' needs in development programme. 100 trained teachers have been chosen as samples of this study. This study used descriptive (Percentage and mean) and inferential methods (T test, One way Anova and Pearson Correlation) to analyze the data. Research findings showed levels of implementation of staff development is high
with mean suitability of the programme p=3.00 (male staff and p=38.41 female staff, whereby mean for implementation programme is p=.170, evaluation is p=.000, planning the programme is p=.000, support is p=.000, needs of the
programme is p=. 000 and impact of the programme is p=. 000. The finding shows there is significant in all criteria in all criteria tested. Based on the findings, it is suggested that school management especially headmaster to plan and implement staff development programme entirely. Besides, it is also suggested that
headmaster and senior assistants exposed to planning and implementation procedure of making the scheme of work of staff development programme. Also suggested, Padawan District Education Department and State Education
Department to hold more in service training to help the teachers to develop their knowledge.
Actions (login required)