Almabrok, Mohammed Saad (2008) Examination Timetable Scheduling Using Tabu Search. Masters thesis, Universiti Utara Malaysia.
PDF




Mohammed_Saad_Almabrok.pdf


Restricted to Registered users only
Download (5MB) | Request a copy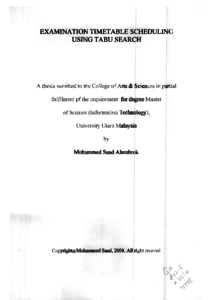 Preview
PDF




Mohammed_Saad_Almabrok.pdf


Download (954kB) | Preview
Abstract
Examination Timetables are utilized to schedule exam-timeslots in field of Applied Science .It involved assigning times and places to suitable events by creating use of available resource. Badly designed examination timetables are not just inconvenient but proved high-priced in terms of wasting time and money. Hence, the major aim of this research is to investigate the internal method of Tabu Search in solving and improving exam-timetable problem. The research have targeted on class examination timetabling problem. Hence, Tabu search is an iterative search method. It uses a local search algorithm at every iteration to search for the finest solution in some subset of the neighborhood, which came from the finest solution obtained at the last iteration. This paper reports the powerful techniques using Tabu Search in scheduling. Examination Timetabling problem is one of the applications in scheduling. In one aspect, it deals with
courses such that it executes the process time slot. These aspects are important for the examination timetabling so it can be done in a smooth way and no student can sit more
than one exam in a same time slot.
Actions (login required)