Gan, Chin Chuan (2000) Online Fast Food Restaurant Ordering System. Masters thesis, Universiti Utara Malaysia.
PDF




GAN_CHIN_CHUAN.pdf


Restricted to Registered users only
Download (26MB)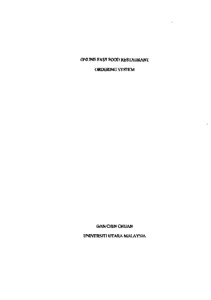 Preview
PDF




1.GAN_CHIN_CHUAN.pdf


Download (1MB) | Preview
Abstract
The purpose of this project is to develop an Online Fast Food Restaurant Ordering System. It is a system that enable customer of fast food restaurant to place their order online at any time and any place. The reason to develop the system is due to the issues facing by the fast food restaurant industry. These issues are such as peak hour-long queue issues, increase of take away foods than visitors, speed major requisite of fast food preparation, limited promotion and advertising on current strategy, and quality control of fast food management issues. Therefore, this system enhances the speed and standardization of taking the order from the customer and displays it to the staff in the kitchen accordingly. Beside that, it provide a user-friendly web pages and effective advertising medium to the new product of the fast food restaurant to the customer with cheaper cost. Further more, it also extend and deliver customer satisfactions especially to the hectic customer or reaching the customer who are constrain of transport to be in fast food restaurant. At the same time boost up market share for fast food restaurant
and increase return on investment for the investor. The structured methodologies have been chosen to develop the Online Fast Food Restaurant Ordering System. The
structured design methodology adopts a formal step-by-step approach to the System Development Life Cycle that moves logically from one phase to the next. The methodology used involved system analysis, system design, system development, and system testing.
Actions (login required)