Abdullahi, Danjuma (2015) Role of state in development of institution in Nigeria : A case study of Universal Basic Education Commission. PhD. thesis, Universiti Utara Malaysia.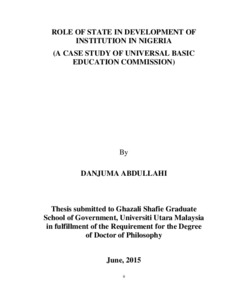 Preview
Text




s94110.pdf


Download (4MB) | Preview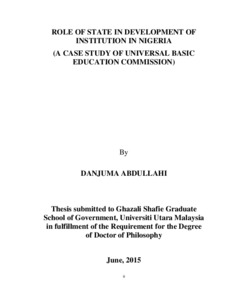 Preview
Text




s94110_abstract.pdf


Download (892kB) | Preview
Abstract
Despite the role of the government, which aims among other things, to provide quality education for the masses, there are outcries from many quarters about the quality of education provided in Nigeria. Basic education is in serious jeopardy due to poor coordination of the programme and low budgetary allocation. Thus, this study analyses problems of political will and its impacts on basic education delivery in Nigeria. This study uses universal basic education (UBE) as a unit of analysis. The qualitative method was used for data collection; two states, Kebbi and Kano, were sampled and 31 respondents from the staff of the UBE Commission, NGOs, alumni, parent-teachers' association, international partners,
such as UNICEF country representatives, the Legislature and members of the Nigerian Union of Teachers were interviewed. The data were analysed using NVivo 10. The result shows that the transaction cost is a major setback to the
realisation of basic education provision. Over the years, the analysis of the budgetary allocation to the UBE Commission has shown a downward trend which has affected the growth and development of the educational institution.
The findings also reveal that the three levels of government, i.e. the federal, state and local governments are responsible for funding basic education in Nigeria; but the lack of commitment from these three levels as well as other stakeholders have created problems. In addition, the study also discloses that the existing system's monitoring mechanism is weak, such as inadequate vehicles for supervision, non-utilisation of monitoring reports and lack of provision of incentives to the monitoring staff. The existing system also lacks autonomy due to politics; the politicians determine what the allocation to the Commission is. Other problems hindering the development of the institution are weakness in planning, roles and responsibilities, unclear funding among the three levels (federal, state and local) of governments, corruption, teachers leaving the
profession for greener pastures, dilapidated infrastructure such as classrooms, and also a high rate of dropouts. The study recommends increased commitment of the governments, public-private partnership and adequate autonomy to be
given to the institution, as well as building consensus with the stakeholders.
Actions (login required)