Mohd Ramzan, Awang (2014) Pengaruh amalan kepimpinan Penolong Kanan Pentadbiran dan iklim sekolah sihat ke atas komitmen guru di Sekolah Menengah Kebangsaan Kluster Kecemerlangan. PhD. thesis, Universiti Utara Malaysia.
Text




s92273.pdf


Restricted to Registered users only
Download (4MB)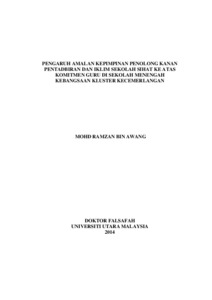 Preview
Text




s92273_abstract.pdf


Download (1MB) | Preview
Abstract
Teachers' commitment is a significant factor towards the development and excellence of a school. However, previous studies have found that teachers' commitment in Malaysia is only at a moderate level. Previous studies conducted on the pattern of leadership in schools mostly focused on principals as the key players in
the development of the school organization, regardless of the leadership role of the
middle manager, especially senior assistant teachers who also play an important role in helping the organization achieve its goals. Hence, this study aims to identify the influence of leadership practice by senior assistant teachers and a healthy school climate on the commitment of teachers in cluster schools in Peninsular Malaysia. Three questionnaires were used, namely Leadership Practices Inventory developed by Kouzes and Posner in 2003, Organizational Health Inventory-Secondary developed by Hoy et al. in 1991 and Teachers' Commitment Inventory developed by
Celep in 2000 to measure the variables in the study. Each variable has a high degree of validity and reliability through a pilot study that was conducted. The study sample comprised of 332 teachers selected through cluster random sampling in secondary cluster schools in Peninsular Malaysia. The data were analyzed using descriptive test and Structural Equation Modeling. This study found that the senior assistants' leadership practice has an influence on healthy school climate variables, however teachers commitment are not directly influenced. Instead, the healthy school climate
has an influence on the commitment of teachers. The study also found that healthy school climate acts as mediating variables to the relationship between leadership practices of senior assistant teachers and teacher's commitment indirectly. Therefore, this study implies that if a school management intends to enhance teacher's commitment, healthy school climate should be established and supervised
beforehand. The findings of this study can also contribute towards the development of the leadership practice of senior assistant teachers, healthy school climate and teacher's commitment in school.
Actions (login required)