Kadijat, Kadiri Kehinde (2015) Cultural sensitivity in communication campaigns for the prevention of sexually transmitted infection in Nigeria. PhD. thesis, Universiti Utara Malaysia.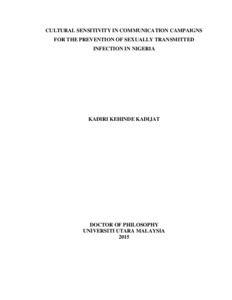 Preview
Text




s93729.pdf


Download (3MB) | Preview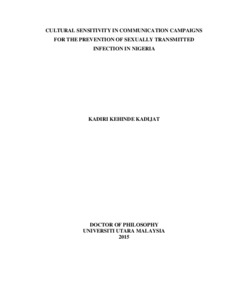 Preview
Text




s93729_abstract.pdf


Download (3MB) | Preview
Abstract
The role of culture in sexually transmitted infections (STIs) prevention campaign has been crucial. However, a common vision on how culture ought to inform the design and
implementation of the campaign appears to be lacking in Nigeria. Given this phenomenon, this study examined how culture can be conceptualized into improving STIs prevention communication campaign in Nigeria. Data was collected through indepth interviews of 22 STIs positive and 19 STIs negative young people within the ages of 15 to 26 years in South-West and North-Central Nigeria. Data was analyzed through thematic analysis. While some of these cultural aspects help positively, others have
negative impacts. Religion, values and taboos, cultural practices, and civilization were
discovered to be the four major aspects where culture and STIs have nexus and influence
communication of STIs messages in Nigeria. Evidence showed that religion discourage youths from pre-marital and extramarital sex. The Nigerian youths acknowledge values and taboos as having a powerful influence on matters of sexuality. However, there were still some local practices which discourage safe sexual behavior such as subservient roles of women, polygamy, female genital mutilation and using young females for sexual satisfaction. Findings indicate the need for STIs messages to address
stigmatization, the use of local dialects, misconception in STIs knowledge, negative
portrayal of STIs, usage of current information and disclosure of STIs status. It was discovered that integrated marketing communication channels will be effective to STIs
negative individuals. However, the STIs positive individuals prefer the use of
interpersonal communication and radio. The study concludes that a culturally sensitive
communication intervention is crucial and should spearhead behavior interventions, both
as agents and beneficiaries. Two STIs cultural sensitivity models were proposed as a potential guide in order to make the intervention gain acceptance among young people in various Nigerian communities.
Actions (login required)