Zubainur, Cut Morina (2015) Pengajaran dan pembelajaran pendidikan matematik realistik lndonesia (PMRI) di Sekolah Rendah Aceh. PhD. thesis, Universiti Utara Malaysia.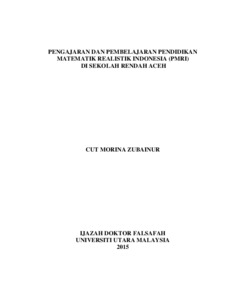 Preview
Text




s92750.pdf


Download (5MB) | Preview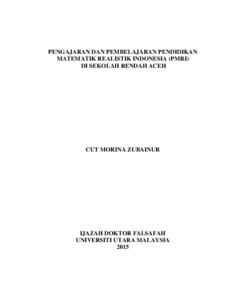 Preview
Text




s92750_abstract.pdf


Download (582kB) | Preview
Abstract
The Indonesian Realistic Mathematics Education (PMRI) was implemented in 2001 in Indonesia and in Aceh in 2006 aimed at improving math achievement in primary schools. However, it was reported that the implementation of mathematics teaching by teachers was not encouraging. In addition, it was also reported that mathematical
achievement was at a low level when compared with the national level achievement of mathematics in Indonesia.The aim of this study is to evaluate the effectiveness of PMRI and explore the types of activities, interaction and student attitudes in mathematics classrooms according to the teacher standards in PMRI. This study used the quantitative and the qualitative approach which involved experiments, observations, questionnaires and interviews. A total of 52 students in year five (5), consisting of 26 students each for the experimental group and the control group, were involved in this study. Data collection was conducted twice through pre- and post-tests with an interval of five (5) weeks. The findings showed that mathematics achievement and the number of activities was higher when using the PMRI. There was also improvement in student interaction, types of questions asked, response to questions, explaining questions,
understanding questions and being cooperative. Generally, students showed a positive attitude towards the implementation of PMRI. Besides, this study also showed that the teaching of mathematics which was practiced by the teachers fulfilled the teaching standards of PMRI. The effect of the implementation of PMRI showed that students became more active in the classroom during the teaching and learning of Mathematics. This showed that the mathematics teaching and learning environment was interesting and effective. The results of this study also showed that the teaching and learning of PMRI was implemented in Aceh but not in all the primary schools. The implication of this study is that the Education Department (Dinas) in Aceh should expand the implementation of PMRI in all primary schools so that the teaching and learning of Mathematics become more interesting and effective. The implementation of PMRI in all
primary schools in Aceh will help to improve mathematics achievement that is comparable with the national level of mathematics achievement in Indonesia. This study contributes to field of mathematics education as well as policy-making related to primary school curriculum development and mathematics education in Aceh.
Actions (login required)