Al-Saqqaf, Asmaa Abdulhameed Mohammad (2015) The relationship between oral communication strategy with language motivation and language anxiety among Yemeni postgraduates in Malaysia. PhD. thesis, Universiti Utara Malaysia.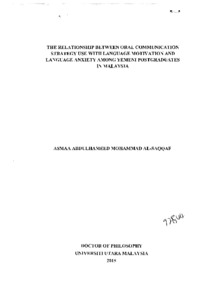 Preview
Text




s92844.pdf


Download (13MB) | Preview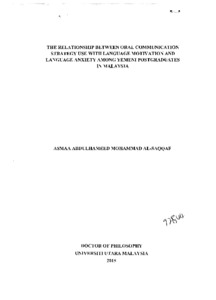 Preview
Text




s92844_abstract.pdf


Download (13MB) | Preview
Abstract
Empirical research on the use of Oral Communication Strategies (OCSs) among
postgraduates is limited. Additionally, studies of the relationships between the OCS use
with language motivation and language anxiety are still lacking. This research aims at
identifying the OCSs used most by Yemeni postgraduates in Malaysia, and determining
whether there are relationships between their OCS use with language motivation and
language anxiety. Furthermore, it also aims at examining whether there are differences in
the OCS use based on their demographic variables. Eight (8) hypotheses were developed to test the relationships. The taxonomy of this study included 21 OCSs which were selected
from past OCS taxonomies by Tarone (1977), Faerch and Kasper (1983b), and Dornyei and
Scott (1995a, 1995b). However, 11 OCSs were not represented by any item in the OCS inventory adopted by this study. Therefore, 12 items were developed by the researcher to compensate for this deficiency. The 12 items underwent the required process of evaluating the items' validity and reliability. Based on a simple random sampling, 171 participants responded to a quantitative cross-sectional web-based survey. Results demonstrated that asking for repetition, self-repair, asking for clarification, circumlocution, meaning
replacement, asking for confirmation, and self-rephrasing were the most frequently used
OCSs employed by Yemeni postgraduates in Malaysia. The findings also showed a
positively but weak relationship between the OCS use and language motivation, and a
positively strong one with language anxiety. The results also revealed that the sample
significantly differed in their OCS use based on gender, length of stay in Malaysia and selfperceived English oral proficiency. However, no differences were found in the sample's OCS use based on age, level of study and academic field. The most prevalent causes
leading to these findings were Yemeni postgraduates' insufficient communicative
competence, amotivation and language anxiety. This study contributes to increasing the
awareness and knowledge of the English teachers and curriculum designers of the importance of enhancing Yemeni students' OCS use, reducing their language anxiety, and increasing their motivation.
Actions (login required)