Idrus, Ibrahim (1998) Pencapaian Matematik di Peringkat Menengah Rendah. Masters thesis, Universiti Utara Malaysia.
PDF




IDRUS_BIN_IBRAHIM_-_Pencapaian_matematik_di_peringkat_menengah_rendah.pdf

- Submitted Version
Restricted to Registered users only
Download (6MB)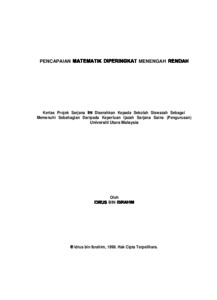 Preview
PDF




1.IDRUS_BIN_IBRAHIM_-_Pencapaian_matematik_di_peringkat_menengah_rendah.pdf


Download (1MB) | Preview
Abstract
The purpose of this study is to identify the correlates that are closely related to PMR mathematics achievement. The objectives of this research are to determine
the relationship between mathematic achievement with student's demographic factors, parent factors, urban and rural factors, and school factors.
378 of the 6,622 form four students in the Districts of Kota Setar were chosen as sample. 10 hypotheses have been constructed. SPSS Program Version 7.1.1 was used to analyze the data and statistical tool Chi-Square were used to test the hypotheses. The 0.05 level of significance was used for this study.
The findings of this study shows that there is a significant relationship between gender, race, tuition classes, parent's income, parent's guidance, home location,
school location and school facilities towards the achievement in mathematics among students. However, there is no significant relationship between teacher commitment towards the achievement in PMR's mathematic.
The information gleaned by the present study was used to make recommendations for higher mathematics performance.
Actions (login required)