Aida Adilla, Aidi (2014) Sarawak corridor of renewable energy (score) project in Sarawak and its impact towards the Penan community Upper Baram, Miri, Sarawak. Masters thesis, Universiti Utara Malaysia.
Text




s815243_01.pdf


Restricted to Registered users only
Download (1MB)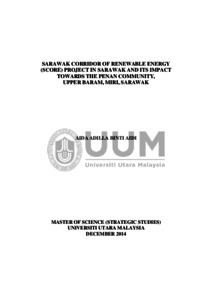 Preview
Text




s815243_02.pdf


Download (410kB) | Preview
Abstract
The purpose of this study is to examine and analyse the political, economic,social and cultural implications of the SCORE Project towards the Penan community, with particular focus on Upper Baram, Sarawak. This research work used the human security theory which is apart of the non-traditional security issues. The actors involve in this study are Sarawak government, non-state actors such as Human Rights Commission of Malaysia (SUHAKAM), Bruno Manser Fonds, Jaringan Orang Asal SeMalaysia (JOAS) and Sahabat Alam Malaysia (SAM) and the Penan community in Upper Baram, Sarawak. It is divided into four parts. The first part looked at the political implications of the SCORE Projects towards the Penan Comminity. These included: lack of participation decision-making process on the part of the Penan Community, marginalization and the changes align with the development process. The second part looked at the the economic effects of the said projects such as hunting, fisheries and agriculture.The third part looked at its social impplications such as the facilities, ethnic identity and land ownership. The last part looked at the cultural implications of the SCORE Project like heritage, traditions and identity of the Penan people in Upper Baram, Sarawak. The data for this study were collected from both primary and secondary sources. The primary data includes the data from the government official website, speeches and report. Questionnaires were also distributed to extract much needed information. The secondary data includes the books, journals and newpapers. The study found out that there are several far-reaching implications of the SCORE Project towards the Penan community in Upper Baram, Sarawak. The SCORE Project brought changes that affected the traditional lifestyle of the Community through the introduction of modern lifestyle in the area. These contradictions led to a protracted conflict between the Penan Community and the developers of the SCORE Projects.
Actions (login required)