Elhachemi, Tamma (2015) The psychosocial factors affecting international student's adjustment in University Utara Malaysia. Masters thesis, Universiti Utara Malaysia.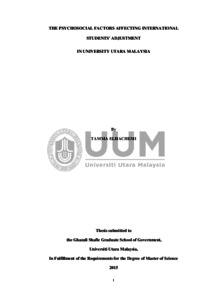 Preview
Text




s814568_01.pdf


Download (2MB) | Preview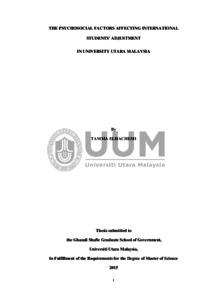 Preview
Text




s814568_02.pdf


Download (706kB) | Preview
Abstract
The globalization of the economy and society has had its impact on Malaysian higher education institutions, particularly universities. The Malaysian Ministry of Higher
Education aims at intensifying globalization through increasing the number of international students. However, many international students struggle with adjusting to a new culture. The increasing numbers of international students from different countries in Universiti Utara Malaysia (UUM) have inspired the researcher to
explore their psychosocial adjustment in this university. Building on this argument, this study aims to investigate the international student psychosocial adjustment by modifying and testing a model derived from Tseng (2002). This research aims to investigate the influence of personality, social support, language fluency, and cultural differences on the psychosocial adjustment of international students in University Utara Malaysia. The four factors that have been examined in the study were adopted from previous research by Cigularova, D. K. (2005), and Yusliza Mohd (2010). A total of 338 students have been selected as respondents and self-administered survey questionnaire has been developed. The findings indicate that there is a positive
correlation coefficient have been shown and remarkably significantly between each one of the four independent variables and the dependent variable. The findings offer few suggestions on how improvement could be made in order to support international students" psychosocial well-being. The research contributes to the fields of intercultural adjustment and also key implications for policy makers.
Actions (login required)