Lily Syuwary, Azaman (2014) Dynamic characteristic of cross cultural competence in adult third culture kids (ATCKs). Masters thesis, Universiti Utara Malaysia.
Text




s901277_01.pdf


Restricted to Registered users only
Download (882kB)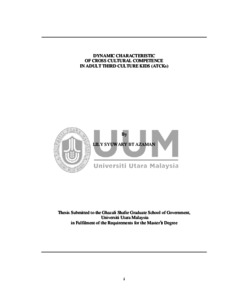 Preview
Text




s901277_02.pdf


Download (353kB) | Preview
Abstract
This study focused on the past and current literature on self-efficacy, cultural flexibility, ethnocentrism, Third Culture Kids and Adult Third Culture Kids, and multiculturalism seen from a perspective of Adult Third Culture Kids early experience (Chapter Two). Thereafter, the researcher employed a qualitative approach through in-depth interviews to study the perceptions of ATCKs with regards to self-efficacy, cultural flexibility, ethnocentrism competence (Chapter Three). The results of this analysis (Chapter Four) and the interpretations (Chapter Five) confirm what has been indicated by past research
and provides avenues for future research. The "adult third culture kids" (ATCKs) is an
individual who has spent significant periods living outside his or her parents' culture.
Research is needed to identify specific experiential variables responsible for the
development of components of cross cultural competencies (CC) in ATCKs. The goal of this study is to gain insight into these relationships and provide a foundation for
continuing investigation by examining how early international experience variable impact CC in ATCKs. Specifically, the study examines how adult third culture kids early international experience impact three dynamic characteristics of CC. These variables will be examined through in-depth interviews conducted in a small sample
size, with sample taken from different sojourn populations, data from multiple sources and refinement of measurements with different forms of measurement. Additionally, the results indicated that ATCKs are able to successfully impact two dynamic cross cultural competencies: self-efficacy and cultural flexibility but negatively impact ethnocentrism on ATCKs early experiences.
Actions (login required)