Ibrahim, Abubaker Mahmood (2014) The impact of investment law no. (4) 2006 on the foreign direct investment and the antecedent effect on the labour market in Kurdistan regional government. Masters thesis, Universiti Utara Malaysia.
Text




s811804_01.pdf


Restricted to Registered users only
Download (1MB)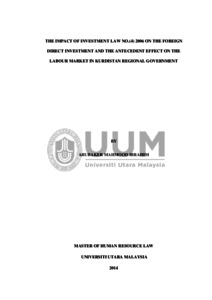 Preview
Text




s811804_02.pdf


Download (405kB) | Preview
Abstract
The aim of this thesis is to analyze the impacts of Investment Law no. (4) 2006 on the foreign direct investment and the antecedent effect on the labor market in Kurdistan. The main objective of this research is to analyze the impact of FDI on labour market .This study uses qualitative approaches. Primary data were generated from officials and companies interviews and secondary data was collected from
various sources of government publications. The objective of this research is to identify the roles of FDI on Kurdistan's Labour market and economic growth; also it intends to emphasize the roles of investment laws in KRG in enticing FDI and its influence on the KRG's labour market. This study founds positive relationship
between FDI and labour market. The study also discovered that labour market was developed through FDI and hundreds of job opportunities created by foreign labour. This stressed that Investment Law No (4) was effective in bringing foreign investors in Kurdistan, which impacted different sectors economy and labour market.
However, if the law was effective in a period of time, for now, it needs to be amended and several acts in this law should be changed in order to maximize the advantages of FDI and targeting country development vision. The law was resulted the misuse of public lands as well as the lack of diversification of investment on
sectors. The law should also be amended in the way to diversify investment sectors. Generally, FDI and investment law resulted in creating a positive environment for local workers as well as overall economic growth of the country.
Actions (login required)