Anuradha, Narasamuloo (2013) What constitutes income in the context of section 4 income tax act 1967 and judicial interpretations. Masters thesis, Universiti Utara Malaysia.
Text




s810049_01.pdf


Restricted to Registered users only
Download (1MB)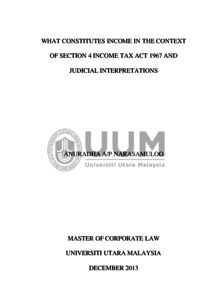 Preview
Text




s810049_02.pdf


Download (544kB) | Preview
Abstract
The study in this project paper is quiet specific whereby the whole discussion revolves around section 4 Income Tax Act 1967 which defines income. Perusing the cases involving income tax, it is obvious that most of the cases revolve around issue of what constitutes income. This is due to the inadequacies of section 4 Income Tax Act 1967 in effectively defining income. The objectives of this project paper is to discuss the current position involving this section and the definitions judicially elaborated by courts to help fill in the lacuna created by the inadequacies this section. It also involves comparative study with
other jurisdiction namely with India and United Kingdom and recommendations to solve the problem namely amendments to the section in the form of adding provisos and illustrations.
As the study in this project paper is about what constitutes income in context of Income Tax Act 1967, major portion of the paper involves discussion on the issues which frequently goes to court for the much needed guide as to what forms income. This will greatly help individuals or organizations namely taxpayers looking for a clue of what section 4 Income Tax Act 1967 trying to classify. It will also give the readers an overview of what is income in revenue law.
Actions (login required)