Alsaad, Abdallah Khalaf (2015) Predicting intention to adopt B2B electronic commerce in Jordan: The moderating role of trust and dependency. PhD. thesis, Universiti Utara Malaysia.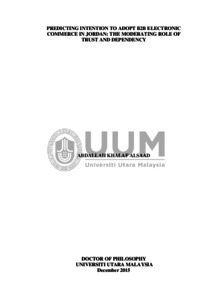 Preview
Text




s94945_01.pdf


Download (5MB) | Preview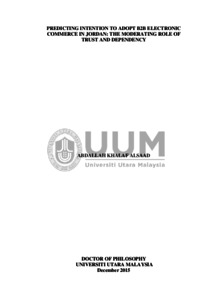 Preview
Text




s94945_02.pdf


Download (1MB) | Preview
Abstract
Business to Business Electronic Commerce (B2B EC) has great potentials to extend firms' competency and efficiency. As such, Jordan has an objective to increase the diffusion of this technology. Despite extensive government efforts, the adoption of B2B EC is still limited. Consequently, there have been extensive efforts to better understand the phenomena. Yet, documented findings regarding the determinants of the adoption are not altogether consistent. To provide more insight, this study developed a research model utilizing the Technological, Organizational, and
Environmental (TOE) framework to identify the determinants of the firms' propensity to adopt B2B EC. Since B2B EC is an inter-organizational phenomenon supporting transactions of partnerships, this study emphasizes the context of partnership characteristics. Grounded on inter-organizational theories, this study
hypothesized that partnership characteristics, namely trust and dependency, moderate the role of TOE motivating factors. Moreover, given that B2B EC is used on both sides of the buyer/seller relationship, this study examined the differences and similarities in the perception of the marketing and purchasing departments regarding the determinants of the B2B EC adoption. A total of 798 questionnaires were self administrated to marketing and purchasing managers in 462 firms that have large
registered capital in Jordan. In total, 114 marketing and 125 purchasing managers
participated in this study. Marketing and purchasing responses were analyzed separately using the Partial Least Squares approach. The result revealed that the marketing and purchasing departments do have different views regarding the determinants of the adoption, specifically in terms of the role of Relative Advantage and Competition Pressure. Moreover, the results showed that the moderating role of
trust was less pronounced. Meanwhile, the moderating role of dependency was partially supported particularly in the purchasing perspective. These findings have demonstrated how dependence asymmetries between trading partners may change the adoption motivations. They further explain the importance of considering the views of the business partner for the adoption to be done successfully.
Actions (login required)