Karatu, Victoria Masi Haruna (2015) Determinants of green purchase intention in Nigeria: The mediating role of perceived behavioural control environmental consciousness and green trust. PhD. thesis, Universiti Utara Malaysia.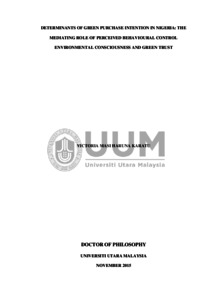 Preview
Text




s94327_01.pdf


Download (3MB) | Preview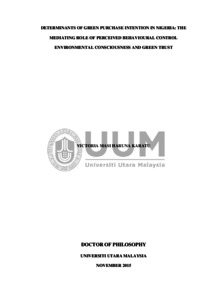 Preview
Text




s94327_02.pdf


Download (3MB) | Preview
Abstract
Green purchase is a widely known phenomenon especially in developed countries and in some developing nations. However, this seemingly known practice is still slow in gathering momentum in places like Nigeria due to the low level of its
awareness. The cogent rationale for this study was to examine the determinants of green purchase intention and the mediating effects of perceived behavioural control (PBC), environmental consciousness and green trust between the suggested determinants and green purchase intention using the theory of planned behavior
(TPB). The framework was composed of nine (9) variables. The instrument was adopted from previous studies and had a total of fifty-four (54) items measured using the seven-point Likert scale. 754 respondents from three universities were selected and 502 responded indicating a 67% response rate. The Structural Equation Modeling (SEM) was used to examine the causal and mediating relationships. The finding showed that perceived behavioural control and environmental consciousness had a significant direct influence on green purchase intention. Also, the significant
determinants of environmental consciousness were government regulations and perceived green knowledge. Green perceived value and green availability significantly predicted green trust. Significant determinants of PBC were green trust,
green price sensitivity and green perceived value. Mediation results indicated that PBC mediated between trust and intention while environmental consciousness mediated between green knowledge, government regulations and intention. The TPB was found to be a robust underpinning theory in explaining the determinants of green purchase intention in Nigeria since the model achieved the goodness of fit by meeting the entire criterion. The implication of this study is that the finding provides valuable insight for the government to formulate stringent regulations to deal with
environmental issues and strategic planning on how to market green products in Nigeria by the practitioners.
Actions (login required)