Valarmathie, Gopalan (2015) The study of augmented reality technique in science learning motivation (eSTAR). Masters thesis, Universiti Utara Malaysia.
Text




depositpermission_s813615.pdf


Restricted to Repository staff only
Download (289kB) | Request a copy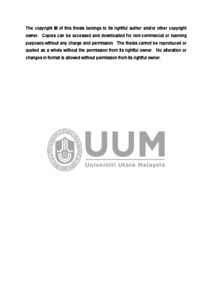 Preview
Text




s813615_01.pdf


Download (2MB) | Preview
Abstract
The purpose of this study is to propose an Enhanced Science Textbook using Augmented Reality (eSTAR) prototype as a supplementary science learning material for Form II students. The Ministry of Education of Malaysia has established a 60:40
policy whereby it targets 60 percent of the students for science stream while 40 percent for arts. However, statistics indicate that there is a downward trend in the enrolment of students in science for the past few decades. The ratio of science to arts students in the 80's was 31:69, then declined to 22:78 in the 90's and remained
at 29:71 in 2012. From the preliminary study, it was found that students have the interest in science; however, they are less motivated to continually pursue their higher education and careers related to science. Thus, this study proposes the eSTAR prototype which incorporates Augmented Reality (AR) and Multimedia (MM) technologies based on eSTAR conceptual model. The methodology utilized in this study is adapted from the Design Science Research Methodology. The prototype incorporates the ARCS Model of Motivation, Cognitive Theory of Multimedia
Learning, Intrinsic Motivation Theory and Multimedia Principles. This prototype was evaluated among 140 samples of Form II students using experimental design and questionnaire. The results of the evaluation show that engaging, enjoyment and
fun are significantly related to motivation. The learning performance study indicates that through the use of the eSTAR prototype, students are able to perform better compared to the conventional learning method. The eSTAR conceptual model and
its prototype are the most important contributions of this study. This study proves that the use of AR in science learning is able to motivate students to perform better in science. The output from this study may assist the Ministry of Education to
achieve the 60:40 policy as Malaysia moves towards becoming a developed nation by the year 2020.
Item Type:
Thesis (Masters)
Supervisor :

Zulkifli, Abdul Nasir

and

Faisal Mohamed, Nur Fadziana

Item ID:
5765
Uncontrolled Keywords:
Augmented Reality, Multimedia, science learning, motivation, learning performance, the 60:40 (Science: Arts) policy
Subjects:
Q Science > Q Science (General)
Divisions:
Awang Had Salleh Graduate School of Arts & Sciences
Date Deposited:
13 Jul 2016 12:27
Last Modified:
18 Mar 2021 08:49
Department:
Awang Had Salleh Graduate School of Arts and Sciences
Name:

Zulkifli, Abdul Nasir

and

Faisal Mohamed, Nur Fadziana

URI:
https://etd.uum.edu.my/id/eprint/5765
Actions (login required)