Suriati, Abdul Aziz (2016) Model konsep persembahan multimedia bersepadu bagi guru di Malaysia. PhD. thesis, Universiti Utara Malaysia.
Text




depositpermission_s93190.pdf


Restricted to Repository staff only
Download (256kB)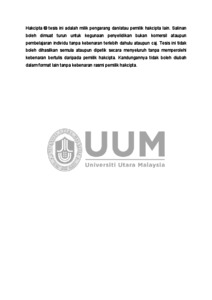 Preview
Text




s93190_01.pdf


Download (5MB) | Preview
Abstract
Trainee teacher's education in Malaysia is based on the Model Konseptual Pendidikan Guru (MKPG) and the competency level stated by the Standard Guru Malaysia (SGM). However, research has found that trainee teachers did not achieve the competency
level be it in terms of knowledge or skills in education science, educational technology and Information Communication and Technology (ICT). This is because these three disciplines were taught separately throughout the teaching programme. Thus, the major objective of this study is to suggest a conceptual model which serves as a guide for trainee teachers to integrate all three disciplines in developing a multimedia presentation. In order to achieve the main objective, this study proposes four specific objectives: (i) to identify the components of the conceptual model by conducting a
preliminary test and comparative study; (ii) to develop the Integrated Multimedia Presentation Conceptual Model-Version 1 (MKPMB-V1); (iii) to validate the MKPMB-V1 during the consultation between the experts and the focus group and to
develop the a refined MKPMB-V2; and (iv) to evaluate the trainee teachers' acceptance of the MKPMB-V2. MKPMB-V2 was tried on 158 trainee teachers who were in semester 4 of their Barchelor of Education Programme at the Institut Pendidikan Guru Kampus Ipoh. The analysis of the user-acceptance test reveals that 80% of the respondents agree that MKPMB-V2 helps in improving the competency level of trainee teachers' skills and knowledge. This finding is significant in achieving
the Pelan Pembangunan Pendidikan Malaysia thus meeting the competency skill of MKPG and SGM.
Actions (login required)