Zurainee, Ariffin (2016) Blog-assisted language learning for collaborative learning in a second language extensive reading program. PhD. thesis, Universiti Utara Malaysia.
Text




depositpermission_s92520.pdf


Restricted to Repository staff only
Download (256kB)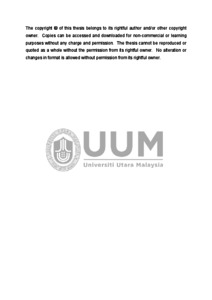 Preview
Text




s92520_01.pdf


Download (11MB) | Preview
Abstract
Generally, English as a second language (ESL) students avoid using English during face-to-face interaction. In-class discussions often do not provide equal opportunity for them to participate as these discussions are dominated by active and competent students. In extensive reading program, students use journals to write reflection and the audience is merely their teacher. However, the literature shows that there are limited studies on the use of blogs as a group journal in L2 extensive reading program. Thus, this study used blogs as a platform for students to collaborate, discuss and share their knowledge on a given topic. The objectives of this study are to explore the nature of students' interaction and their interactional patterns in their blogs when they were supervised face-to-face and virtually. The participants
consisted of 20 secondary school students from a suburban school in Kelantan, Malaysia. They read the reading materials, held group discussions and posted comments in their respective group blogs. The students chose the reading materials from the library during face-to-face interaction whereas during virtual interaction, they searched for their own materials and from the blogs outside the school. The students' blog posts were analyzed using Florida State University Online Assessment
Tool and Bales Interaction Process Analysis in 2002. A survey and interviews were administered to elicit the students' responses on the use of blogs in an extensive reading program. The findings indicated that the students participated more during virtual supervision compared to face-to-face supervision. However, they easily diverged from the task during virtual supervision. The use of blog encouraged the students to interact in English. The findings also indicated that students' personalities influenced their participation in blog discussion. This study provided evidence that
students' involvement in choosing their own reading materials and the use of blogs as a platform to learn collaboratively created opportunity for them to share ideas in English freely. These findings have pedagogical implications on the use of blog for teaching and learning English as a second language.
Actions (login required)