Ang, Bay Lee (1995) An Investigation Of The Leadership Styles Of Principals In Selected Secondary Schools In The District Of Muar, Johor. Masters thesis, Universiti Utara Malaysia.
PDF




Ang_Bay_Lee.pdf


Restricted to Registered users only
Download (1MB)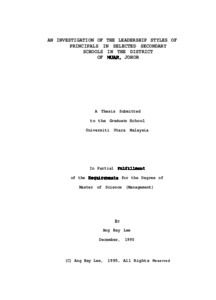 Preview
PDF




Ang_Bay_Lee_95.pdf


Download (368kB) | Preview
Abstract
Much has been written about educational administration. It appears that secondary school principals have different styles of leadership. There are 4 distinct types of leadership posited by Hersey and Blanchard(l976, 1982, 1993), that is, "Telling", "Selling", "Participating" and "Delegating". Each style is appropriate and effective depending on the situation and the maturity of the work group (Bersey and Blanchard, 1982). The purpose of the study was to investigate the leadership styles of principals in selected secondary schools in the district of Muar, Johor. Specifically, it was to determine the extent to which the principals demonstrate the leadership styles of "Telling", "Selling", "Participating" and "Delegating" as delineated in The Leader Effectiveness and Adaptability
Description (LEAD) designed by Hersey in 1989. The study also looked into the perceptions of teachers of the leadership styles of their principals by gender, qualification, working experience, grade and location of
schools. Data was analyzed using the "Leader Effectiveness and Adaptability Description" (Hersey, 1989) and scores were then analyzed using descriptive statistics. Respondents in the study were 20 principals and 388 teachers. Based on the findings, it was found that principals chose "Selling" as the dominant primary
leadership style and "Participating" as the dominant
secondary leadership style. They demonstrated high flexibility in "Selling and Participating but rather low style adaptability in general. It was found that the perceptions of principals and teachers were similar on the dominant primary leadership style but differed concerning secondary leadership style(s), style range and style adaptability. It was also found that teachers' perceptions of primary leadership styles of principals differed by gender and qualification but there was no difference in the leadership style adaptability, by qualification of teachers, grade and location of schools. The results appear to indicate that principals still lack the ability to adapt their styles of leader behavior to meet the particular situations and needs of their teachers.
Actions (login required)