Mohd Asymawi, Mohd Rosli (2016) Intention to leave manufacturing organisation: A study of Honda Malaysia. Masters thesis, Universiti Utara Malaysia.
Text




s813834_01.pdf


Restricted to Registered users only
Download (1MB) | Request a copy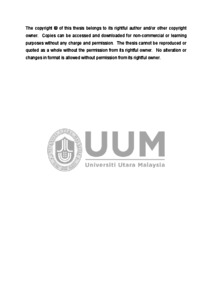 Preview
Text




s813834_02.pdf


Download (1MB) | Preview
Abstract
This study attempts to present a picture of associates' decision to resign from Honda Malaysia. The primary purpose of this study is to analyse turnover opportunities, career advancement and leadership, and to investigate reasons influencing the intention to leave a company or organisation. Therefore, this research focuses on variables that affect workers' intention to leave sectors of the manufacturing industry in Malaysia, with a focus on Honda. The study population is comprised of the Honda Malaysia workforce. Data were collected from 247 respondents comprising assistant managers, senior executives, executives, and clerical staff. SmartPLS was used in order to determine whether the hypotheses were accepted. The results support two of the hypotheses of this study. We found that both leadership as well as turnover opportunities had significant (positive) effect on the decision to leave Honda Malaysia. The results also concluded that the prospect of career advancement does not support or influence associates' intention to leave the organisation. Their decision is instead based on the output as received from the respondents of the survey. It is hoped that the outcome of this study can be used as a guide for Honda Malaysia to retain their workforce.
Actions (login required)