Wahida, Ayob (2015) Kepentingan penglibatan kaum wanita ke arah kemapanan aktiviti kitar semula di negeri Kedah. PhD. thesis, Universiti Utara Malaysia.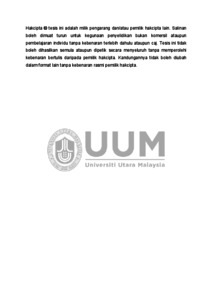 Preview
Text




s92630_01.pdf


Download (3MB) | Preview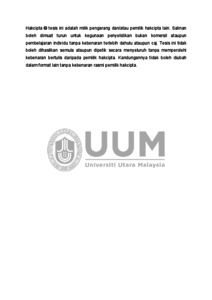 Preview
Text




s92630_02.pdf


Download (3MB) | Preview
Abstract
The ever increasing accumulation of domestic solid waste still remains one of the most serious environmental problems in Malaysia, especially in the state of Kedah. Women play an important role in the management of domestic solid waste. This study aims to examine the recycling involvement of women from the demography aspect and to analyse the awareness level, perception, attitude and behavior towards recycling activities. In addition, this study also identifies problems and challenges faced by the women and what factors influence them to involve in recycling activities. This study is
also to establish hypothetical model of sustainable recycling activities. The instruments used in this research include a questionnaire and focus group interview protocol. The questionnaire survey was performed on 580 respondents, comprising 290 urban
respondents and 290 rural respondents. The results showed that participation by women in recycling programmes are as much as 67.2%, while the rest of the 32.8% did not do any recycling. The results also showed that majority respondents represented the low income households with an average monthly household income of RM700. Television, newspapers, and radio were the three main sources of received information regarding recycling. The levels of perception, awareness, attitude, and behaviour were deemed good because the overall mean value is categorised as high. Results from the interviews
during the focus group sessions highlighted the main factor for respondents to carry out
recycling activities was the monetary rewards. Among the identified problems were lack of facilities, lack of promotion, lack of available information, and no informal education provided. Based on the findings, the study has developed a model that could be used as a basis for more studies that may assist in the continuous learning process, policy making about domestic solid waste and the role of household. Recycling activities also need to be managed through integration involving collaboration by the government, private
sector, Non-governmental organization (NGO), and the general public so that recycling activities can be performed on a large scale and become a way of life, not just for the women, but also all the members of the society as a whole.
Actions (login required)