Mohamad Faisol, Keling (2016) Dasar pertahanan negara Malaysia: Analisis ke atas prinsip pertahanan self-reliance. PhD. thesis, Universiti Utara Malaysia.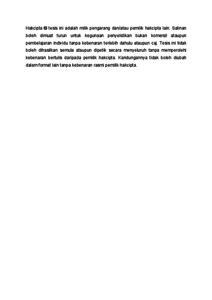 Preview
Text




s93794_01a.pdf


Download (3MB) | Preview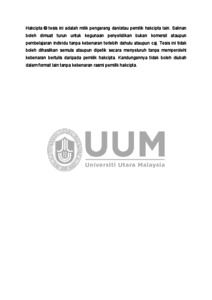 Preview
Text




s93794_02a.pdf


Download (1MB) | Preview
Abstract
The development of The National Defence Policy (NDP) since 1957 has been influenced by various factors whether internal or exterior factors of the country's domestic affairs. Malaysia's defence policy has three main components which are the nation's essential and strategic area, defensive principle and national defence concept. The NDP ensures the country's stability, peacefulness, safety, and survival. Since 1970, Malaysia has carried out the self- reliance principals which consist of six main components. The components are developing the firm defence posture, defensive strategy, defensive source, defensive logistic, defensive industry and revolution of military affairs. The implementation of defensive principals was questioned as few issues and cases regarding asset and management ability involving the Malaysian Armed Forced (MAF) surfaced. The practice of self-reliance principal arouses issues particularly on the ability to attain the self-reliance principle, problems faced by MAF, and the effects of the practice of self-reliance principals. In order to clarify the issues, a researched had been carried out by applying the realism theory in identifying and analyzing the research. Moreover, the research also referring to the implementation and defensive self-reliance model that was practiced by three countries which are South Korea, Australia, and Singapore as the indication to analyze the self-reliance principals as practiced by Malaysia. To ensure the accuracy of the data and information, the research applied the qualitative method which consists of triangulation method to gather the primary and secondary data. Interviews with the Defence Minister and the senior military officers were also carried out in gathering the information. The findings show that the practice of self-reliance principals as carried out by MAF is frail and unable to achieve the independence level of the national defence. It is because each component in the self-reliance principle is closely related and had faced various problems that effect directly to the country's defence. Therefore, in order to make sure the effectiveness of developing the defensive principle, this research had proposed few suggestions which are strengthening the self-reliance defensive component and reorganizing the NDP structure with the intention of increasing the structural precision and enable Malaysia to be independent in maintaining the country's safety and defence.
Actions (login required)