Vikniswari, Vija Kumaran (2016) The technical efficiency of government linked companies (GLCs): Internal and macroeconimic perspectives. PhD. thesis, Universiti Utara Malaysia.
Text




s94002_01.pdf


Restricted to Registered users only
Download (1MB)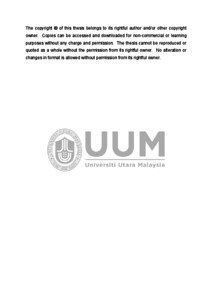 Preview
Text




s94002_02.pdf


Download (2MB) | Preview
Abstract
The ever challenging environment in the globalization era, has led Government Linked Companies (GLCs) to adapt various business strategies in their effort to become more efficient. The involvement of Malaysian government as the key player in economic activities does not help the GLCs to be more competent especially when the agenda is being politicised. Furthermore, GLCs are currently facing problems in terms of profit and management that affect their overall level of efficiency. Research on GLCs' competency to overcome the challenges in the business world is still insufficient. Thus, this study aims to investigate the effects of internal and macroeconomic factors that could positively improve the technical efficiency of GLCs. Hence, the objective of this study is to examine the impact of macroeconomic and internal factors on the efficiency of 17 top listed GLCs under G20. In addition, this study also analyses the role of the government as an interaction terms in affecting the technical efficiency of GLCs. Stochastic Frontier Analysis (SFA) is used to identify the technical efficiency score of GLCs followed by the Fixed and Random Effects and Fully Modified Ordinary Least Squares (FMOLS). The results from this study reveal that the internal factors such as the revenue, financial capital, government ownership, firm size and return on assets and macroeconomic factors such as GDP, infrastructure, unemployment, trade openness, inflation rate and real interest rate, show a significant impact on the GLS's technical efficiency. The study recommends government involvement as an interaction terms to improve GLC's efficiency. In terms of policy, the government should play a greater role in providing a stable macroeconomic environment, making rational decisions and establishing more international economic linkages through GLCs. It also indicates that policy-makers should act in accordance with good governance based on GLCs' performance and development.
Item Type:
Thesis (PhD.)
Supervisor :

Abdullah, Hussin

and

Hussin, Fauzi

Item ID:
6193
Uncontrolled Keywords:
Government Linked Companies, technical efficiency, internal factors, macroeconomic factors, government role
Subjects:
H Social Sciences > HC Economic History and Conditions
Divisions:
School of Economics, Finance & Banking
Date Deposited:
19 Apr 2017 18:02
Last Modified:
19 Apr 2017 18:02
Department:
School of Economics, Finance and Banking
Name:

Abdullah, Hussin

and

Hussin, Fauzi

URI:
https://etd.uum.edu.my/id/eprint/6193
Actions (login required)