Abdul Halim, Hassan (2016) Masalah penguatkuasaan undang-undang terhadap bangunan tanpa kebenaran di Majlis Bandaraya Alor Setar. Masters thesis, Universiti Utara Malaysia.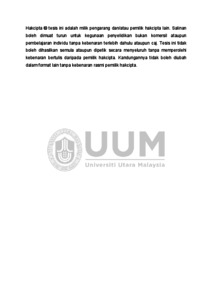 Preview
Text




s812496_01.pdf


Download (1MB) | Preview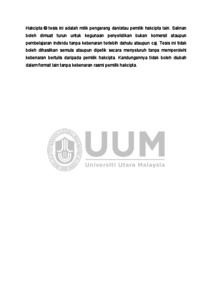 Preview
Text




s812496_02.pdf


Download (1MB) | Preview
Abstract
At present, it is found that unauthorised buildings are erected freely as if no single enforcement action was imposed by authorities especially local government. Enforcement of law by demolition is regarded as cruel especially towards the owner of the building who has to bear the loss as a consequence of the demolition. Different perspective in the society towards enforcement actions of the unauthorised building required a research to be carried out to suggest improvement to the existing process and procedure. This study has three objectives. First, to identify the laws on enforcement employed by Majlis Bandaraya Alor Setar (MBAS) towards unauthorised buildings. Secondly, to study the problems in MBAS on enforcement of unauthorised buildings. Thirdly, to suggest recommendations for improvements. This study is a socio legal research combining social and legal research methodologies. Interviews with local government's officer, politicians and building owners were conducted. Academic studies from local and abroad were also scrutinised. The finding of this study shows that there are problems associated to the enforcement of laws on unauthorised buildings comprising internal and external problems. The internal problems consist of financial, integrity and ineffective mechanism employed by MBAS. Whereas, the external problems include the mentality and culture of the society, weather, interpretation and process of laws as well as interferences from certain parties. The imposition of fines as the sole enforcement mechanism by MBAS has not been producing the desired result. Therefore, to improve the effectiveness of its enforcement, other options must be explored by MBAS such as the appointment of qualified person and application of other mechanisms which are more effective and relevant to the current scenarios. It is hoped that the findings of this study are useful to the MBAS specifically, policy makers as well as the public as a whole.
Actions (login required)