Sarina, Ismail (2016) Faktor peramal pembelian sebenar produk herba di Malaysia: Kesan moderator persepsi manfaat dan persepsi risiko. Doctoral thesis, Universiti Utara Malaysia.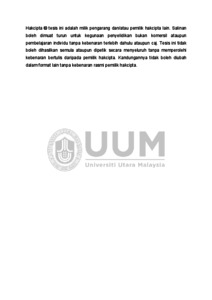 Preview
Text




s93711_02.pdf


Download (1MB) | Preview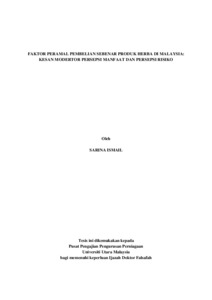 Preview
Text




93711_01.pdf


Download (2MB) | Preview
Abstract
The usage of herbal products has gained popularity in the modern society and is often used as an alternative medicine. The increased popularity of herbal is caused by the change in lifestyle due to modernization process and health problems. Even though there is an increased demand for herbal products, however, studies on actual purchase
of herbal-based products are still insufficient, particularly in Malaysian context. Hence, this research is to identify factors that influence the actual purchase of herbal-based products. In order to achive the objective, a conceptual model based on the Theory of Planned Behaviour was proposed to explain the relationships between variable in this
reseach. A total of 576 questionnaires were distributed in six states using Mall Intercept,
however only 473 usable responses were obtained and used for data analysis. Data in this study was analyzed through a combination of descriptive and inferential statistics using Statistical Package for Social Science (SPSS) and SmartPLS. The results reveal that 15 hypotheses are significant that support the finding. As expected, attitudes,
purchase intention, product safety, and social influence are significantly related to the
purchase intention and actual purchase, while perceived benefits moderate the relationship between attitudes and actual purchase. The results also show that intention mediates the relationship between attitude, social influence, product safety and actual purchase. Finally, this research also discusses the contributions, limitations and
suggestions for future research related to the actual purchase of herbal-based products.
Actions (login required)