Low, Swee Foon (1999) Malaysia's Tour Guide's Performance and Characteristic. Masters thesis, Universiti Utara Malaysia.
PDF




LOW_SWEE_FOON_-_Malaysia's_tour_guide's_perfomance_and_characteristics.pdf


Restricted to Registered users only
Download (3MB) | Request a copy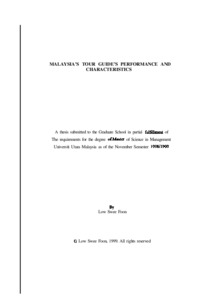 Preview
PDF




1.LOW_SWEE_FOON_-_Malaysia's_tour_guide's_perfomance_and_characteristics.pdf


Download (496kB) | Preview
Abstract
Tourism plays an important role in Malaysia's economic development and our government has put much efforts to promote and market tourism industry in Malaysia.
According to The Annual of Malaysia Tourism Statistics 1997, number of group travel to Malaysia had significantly increase and this directly lead to the increase in number of tour guide in our country. Thus, the purpose of this study is to understanding Malaysia tour guide's performance and their characteristics to ensure that tourists meet their desired service during their trip in Malaysia. 129 questionnaires have been collected and
SPSS software has been used to analysis the data. The results found that Malaysia's tour guides have a good performance during the service encounter and exceed tourists' desired service level. A comparison among tourists from North-America and Asia-Pacific in their perception of tour guide's performance reveals that tourists from North-America have higher satisfaction in tour guide's service encounter than those from Asia-Pacific. Besides that, a study on the tour guide's characteristics also has been done and the result found that the best characteristics tour guides perform well is sights recommendations.
Actions (login required)