Kee Y. Sabariah, Kee Mohd Yussof (2015) Faktor-faktor peramal kepada amalan interest based bargaining dalam kalangan pemimpin kesatuan sekerja di Sabah. PhD. thesis, Universiti Utara Malaysia.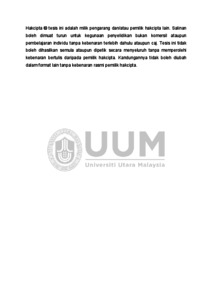 Preview
Text




s93404_01.pdf


Download (2MB) | Preview

Preview
Text




s93404_02.pdf


Download (2MB) | Preview
Abstract
Interest Based Bargaining (IBB) is one of the alternatives approach in collective bargaining that can be practiced by unions and employers to reduce conflicts during negotiation process. However, IBB strategy is not easily accepted by trade unions and employers. Therefore, this research seeks to develop a conceptual framework to identify factors influencing the practice of IBB. These factors consist of conflict management approach, the perceptions of trade unions-employers' relationship, the attitude towards collectivism, the perceptions of unions instrumentality and gender as a moderator. For the purpose of testing the research framework, a quantitative approach using survey method was employed. In this regard, a total of 166 set of questionnaires were distributed and analyzed. Descriptive statistics and inferential statistics approaches were used to analyze the data. This study discovered that the perception of union instrumentality intrinsic and attitude towards collectivism has a significant and positive relationship with the IBB practice. This shows the confidence of the trade unions in fighting for the intrinsic rights of workers and attitude towards collectivism capable of affecting trade union leader's negotiation with IBB practice. However, the results of hierarchical multiple regression analysis indicated that gender does not play significant role as moderator of the relationship between conflict management approach, perceived union-management relationship, attitude towards collectivism and trade union perception towards instrumentality with IBB practice.
Actions (login required)