Zaharuddin, , (2015) Kesan imej dan kualiti perkhidmatan terhadap gelagat pelajar institusi pengajian tinggi swasta (IPTS) di Jakarta serta kepuasan pelajar sebagai mediator. PhD. thesis, Universiti Utara Malaysia.

Preview
Text




s90797_01.pdf


Download (1MB) | Preview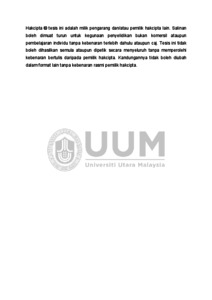 Preview
Text




s90797_02.pdf


Download (389kB) | Preview
Abstract
Private higher educational institutions (PHEIs) have an important strategic role as a catalyst in the development of quality future generations for the job markets. In order to improve their competitiveness, PHEIs need to continuously improve their services, especially in dealing with the environment that has become more globalized and open. With the increase in the number of PHEIs annually, the competition to attract potential students, who now have more choices, has become more challenging. Among the criteria used by potential students in making their choices of PHEIs are their perceptions on the image and service quality associated with a particular PHEI. The image and the service quality experienced by the students subsequently influence their levels of satisfaction. The main objective of this study is to examine the extent of relationship between the independent variables (image and service quality), with the mediating variable (satisfaction) and the dependent variable (behavioural implications). Respondents in this study were students from PHEIs in Jakarta, and were selected by using a cluster sampling technique. Survey questionnaires were used for the data collection process, and a total of 442 usable questionnaires were returned and subsequently used for data analysis with the SPSS software. Results of factor analyses indicate that the variable image has three dimensions: environment, practicality, and stability; service quality is also divided into three dimensions: physical appearance, service reliability, and service assurance. The mediating variable, satisfaction, is also made up of three dimensions: intrinsic, extrinsic, and social extrinsic. The results of the factor analysis also show that the variable behavioural is unidimensional in nature. Results of multiple regression analyses, in general show that the variables of image and service quality demonstrate direct and indirect relationships with students' behaviour, indicating that the presence of mediating effects of the mediator (satisfaction).
Actions (login required)