Muhammad Syamsul, Mat Zin (2016) Kesan intervensi terapi kognitif tingkahlaku singkat (CBT-B) terhadap kesediaan untuk berubah dan estim kendiri di dalam Institut Pemulihan Dadah. Masters thesis, Universiti Utara Malaysia.
Text




s813435_01.pdf


Restricted to Registered users only
Download (4MB)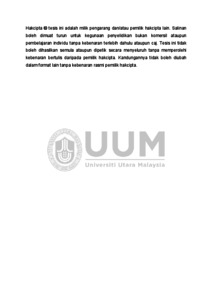 Preview
Text




s813435_02.pdf


Download (159kB) | Preview
Abstract
Drug addiction is one of the social issue which concerns and involved a various party to engage in rehabilitation and treatment. The increment of the relapse after rehabilitation and treatment giving a negative impact towards rehabilitation and treatment in Malaysia. Thus, this research initiated new dimension regarding drugs rehabilitation and treatment. Brief Cognitive Behavioral Therapy Intervention (CBT-B) was used to test the effectiveness of readiness to change and the self-esteem among the trainees who involved
in treatment and rehabilitation at Rumah Pengasih, Kuala Lumpur.This study applied the experimental design, which involved 28 respondents who received the CBT-B intervention in treatment group and 28 respondents in the control group.The Independent
Samples t-test was used to analyzed the mean comparison of readiness to change and self esteem of both experimental groups. While Paired Sample t-test was used to analys all sub-items including Contemplation, Action and Maintenance before and after CBT-B intervention were conducted.The finding showed that the mean of readiness to change 8.98 and the mean of self-esteem 34.32 for treatment group is higher than the mean of control group. In addition, the result showed the increment of mean among the readiness to change sub-items, which include the contemplation, action and maintenance for the treatment group before and after the intervention. Mean increment for sub-item
contemplation from 15.79 to 27.11, sub-item mean for action increase from 16.25 to 27.46 and sub-item mean for maintenance also showed increment from 16.64 to 27.25. Based on the t-test analysis, the result showed CBT-B intervention was significantly (p < .05) contributed to the readiness to change and self esteem among the trainees. This research initiated one of the systematic and dynamic drug addiction treatment and
rehabilitation towards continuous treatment among the trainees who have involved in drug addiction.
Actions (login required)