Othman, Ibrahim (2016) The moderating effect of risk culture on entreprise risk management implementation in Malaysia. Doctoral thesis, Universiti Utara Malaysia.

Preview
Text




s92819_01.pdf


Download (2MB) | Preview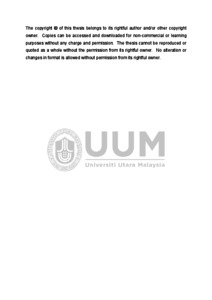 Preview
Text




s92819_02.pdf


Download (494kB) | Preview
Abstract
Enterprise risk management (ERM) is a systematic way of assessing risk exposure within business organizations. It is also a comprehensive tool and systematic mechanism to predict the likelihood and impact of events, including unexpected occurrences. The objective of this study is to examine the key determinants of ERM implementation amongst Public Listed Companies (PLC's). It is also to examine the moderating effect of risk culture on the
relationship between ERM determinants and ERM implementation amongst the listed companies in Malaysia. This research adopted a quantitative orientation to analyze the data obtained from the questionnaire distributed to the companies listed on Bursa Malaysia via their Risk Management Division. Out of 814 PLC's based on the directory of Bursa Malaysia's main board, 300 were taken as a sample in this study. The primary data collection
commenced after the pilot test was completed and the data was analyzed using SPSS Version v.18. From the analysis it is found that senior management commitment, chief risk officer, ERM policy, process methodology, risk assessment tool, audit committee, risk management committee, internal audit, rules and regulation and code of practice have a significant and positive relationship with the ERM implementation. The result reveal risk culture is
considered as good moderator by positively interacts or increases the interaction between the
ERM determinants and the ERM implementation. Hierarchical multiple regression indicated that risk culture played the moderating role in the relationship between senior management commitment, chief risk officer, risk assessment tools, risk management committee and ERM implementation. This study provides significant theoretical and practical contributions for the industry, practitioners, researchers and academician, besides providing a framework for ERM implementation in the listed companies in Malaysia. The results of this research have significant implications for stakeholders such as business or professional practitioner including internal auditors, top management, audit committee, standard-setters or even regulatory bodies and academician in Malaysia. The current study is significant as it helps shed light on the relative importance of the leadership, operating framework, governance mechanism and compliance constructs on ERM implementation in Malaysia. The findings of this study contribute to the body of knowledge in the area of risk governance, compliance and control mechanism that linked with the ERM implementation. The results of this study could serve as a guide to develop a strategy for audit actions in the assessment of ERM
practices to further improve the level of ERM implementation by the intended shareholders
as a whole.
Actions (login required)