Koay, Aik Hoe (2016) Determinats of purchase decision of client-server hardware system (C-SHS) in Malaysian SME businesses. DBA thesis, Universiti Utara Malaysia.
Text




depositpermission_s94693.pdf


Restricted to Repository staff only
Download (138kB)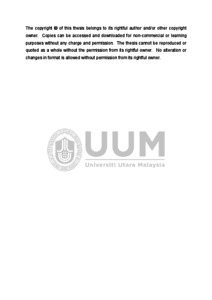 Preview
Text




s94693_01.pdf


Download (2MB) | Preview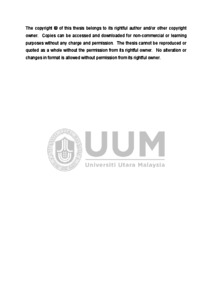 Preview
Text




s94693_02.pdf


Download (699kB) | Preview
Abstract
Information and communications technologies (ICT) is regarded as an essential tool in enhancing competitiveness of small and medium enterprises (SMEs) in global marketplaces. Consequently, client-server hardware system (C-SHS) has gained its popularity in SM enterprises. However, there is no specific research done about determinants of purchase decision of C-SHS in SMEs particularly in Malaysia. Thus, this research filled this gap and developed a research problem on why and how to establish the determinants of purchase decision of C-SHS in Malaysian SME businesses. A preliminary theoretical framework based on literature and also the integration of Technology Acceptance Model, Diffusion of Innovation theory, and Technology, Organization, and Environment framework was developed. This research employed qualitative methodology using convergent interview and thematic data analysis techniques to explore and confirm the preliminary theoretical framework. Convergent interview is opted since it allows a greater depth of data collection than other types of interviews as it attempts to gain insight into the informant's understanding of a situation or process. The identification of respondents in this research was based on a snowballing technique. The findings from this research confirmed 16 determinants of purchase decision of C-SHS in SMEs, that are, relative advantage, compatibility system, complexity system, existing IT infrastructure, trialability, cost of purchase, top management support, end user IT skill, owner characteristics, resources availability/constraint, perceived usefulness, perceived ease of use, competitive pressure, government support, customer pressure, vendors competency & support. In addition, five (5) newly determinants had been discovered, that are, scalability system, security system, new initiative, brand loyalty, and green IT environment. These newly discovered determinants represent new contributions to the body of knowledge. As a consequent, a revised theoretical framework is derived to capture these new discoveries. The finding of this research has implications on policy, practice, and methodological aspects.
Actions (login required)