Mohd Hazim, Mohd Nordin (2016) The effective hydrotherapy system for weight reduction and quality of life improvement amongst obese Malaysia. PhD. thesis, Universiti Utara Malaysia.
Text




s93541_01.pdf


Restricted to Registered users only
Download (2MB) | Request a copy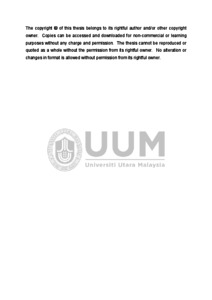 Preview
Text




s93541_02.pdf


Download (998kB) | Preview
Abstract
Malaysia has the highest rate of obese people within the Southeast Asia region and placed sixth in the Asia Pacific. Obesity not only impacts the person's mobility and health but also linked to absenteeism and medical leaves affecting the overall workforce productivity and efficiency. Physical activity is one of the methods in addressing obesity, and water-based activity (hydrotherapy) is recognised as an extension of the traditional land-based physical activity. This research experiments two types of hydrotherapy system, active or passive which are available in hospital settings, public places, treatment centres or even in individual homes. Subjects of both sexes and diverse age ranges were requested to immerse themselves in thermal water either exercising in large water pool within hospital setting or enjoy the high energy turbulent water movement in bath tub. The findings of the hydrotherapy sessions have shown encouraging results. Quantitative data was analysed with the help of descriptive statistics and paired sample t-test significant of pre and post hydrotherapy experiments. Qualitative data was analysed with the use of thematic analysis and specialised qualitative assessment software. This research reveals that hydrotherapy has improved subject's mobility, flexibility, exercise capability, weight reduction and their quality of life. A well-managed hydrotherapy system within the Business Process Management (BPM) context can provide positive overall results. The major limitation of this research is to gain consent to conduct the experiment in the government hospitals, where the public seek medical treatment including obesity. Whilst the current research has given some insights on the effects of hydrotherapy on obesity treatment, future research could identify and assess hydrotherapy effectiveness in other obesity linked sedentary lifestyle diseases.
Actions (login required)