Sharon, Jong Ying Hui (2016) The practice of organizational flexibility in Malaysia higher rated hotels. Masters thesis, Universiti Utara Malaysia.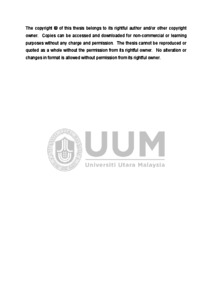 Preview
Text




s810042_01.pdf


Download (9MB) | Preview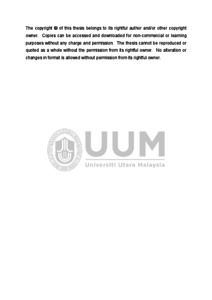 Preview
Text




s810042_02.pdf


Download (9MB) | Preview
Abstract
This study explores the practice of organisational flexibility in four- and five-star hotels in Malaysia, which is referred to as Malaysian higher rated hotels in this study. The practice of organisational flexibility is particularly important in hotel industry because the industry is by nature labour intensive. As such, wages constitute the highest cost element of hotel expenditures. The two forms of organisational
flexibility (functional flexibility and numerical flexibility) enable hotels to efficiently manage its labour force. With functional flexibility, hotels are able to redeploy its employees through a variety of different work practices whilst numerical flexibility enables hotels to vary the types of employees through the engagement of short-term employees. This study is framed based on three research questions. The first research question determines the purposes of practising organisational flexibility in Malaysian higher rated hotels. The second research question seeks to identify the approaches employed by Malaysian higher rated hotels in practising organisational flexibility. The third research question aims to investigate the outcomes of organisational
flexibility practice. In seeking the answers to these research questions, qualitative methodology and semi-structured interview methods are employed. The findings of this study indicate that different hotels practise organisational flexibility for different purposes. Similarly, the extent to which approaches are employed to practise functional and numerical flexibility in each hotel also varies. It is discovered that functional flexibility is preferable as compared to numerical flexibility. The findings of this study reveal that the most common approaches of functional flexibility used in
Malaysian higher rated hotels are multi-skilling, job rotation and cross-exposure whilst employment of casual and agency workers are the most preferred approach of numerical flexibility. The practice of organisational flexibility results in more
positive outcomes. The findings of this study contribute to both theoretical and practical knowledge. In terms of its theoretical contribution, this study recognises that organisational flexibility is an important aspect of human resource management especially in higher rated hotels. The investigation into the area of organisational flexibility serves as a reference point for managers and human resource practitioners
intending to pursue organisational flexibility.
| | |
| --- | --- |
| Item Type: | Thesis (Masters) |
| Supervisor : | Ahmad, Rozila |
| Item ID: | 6390 |
| Uncontrolled Keywords: | Higher Rated Hotels, Organisational Flexibility, Functional Flexibility, Numerical Flexibility, Human Resource Management, Malaysia |
| Subjects: | T Technology > TX Home economics > TX901-946.5 Hospitality industry. Hotels, clubs, restaurants, etc. Food service |
| Divisions: | Ghazali Shafie Graduate School of Government |
| Date Deposited: | 13 Jul 2017 11:15 |
| Last Modified: | 19 Apr 2021 07:19 |
| Department: | Ghazali Shafie Graduate School of Government |
| Name: | Ahmad, Rozila |
| URI: | https://etd.uum.edu.my/id/eprint/6390 |
Actions (login required)