Mohamed Yusoff, Mohamed (1999) The Performance Of Bank Islam Malaysia Berhad In Historical Perspective. Masters thesis, Universiti Utara Malaysia.
PDF




MOHAMED_YUSOFF_BIN_MOHAMED_-_The_perfomance_of_Bank_Islam_Malaysia_Berhad_in_historical_perspective.pdf


Restricted to Registered users only
Download (7MB)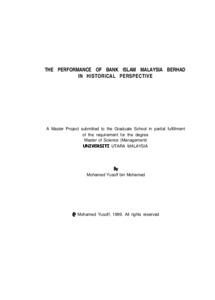 Preview
PDF




1.MOHAMED_YUSOFF_BIN_MOHAMED_-_The_perfomance_of_Bank_Islam_Malaysia_Berhad_in_historical_perspective.pdf


Download (616kB) | Preview
Abstract
Establishment of Bank Islam Malaysia Berhad in the country in 1983 was a great booster to the Islamic financial system. To the Muslims in majority, a lot of things were expected from the operation of the bank. They hope to see that the Islamic bank should play its roles, not only to run a banking business for profits, but also to serve the Muslims in particular, the nation at large, in Islamic ways.
This study provides an analytical review on the performance of the bank right from its inception until June 1998. The main focus of the study is placed on the management of assets and liabilities of the bank over the
years. It is observed that the bank has performed creditably well as an Islamic institution within the competitive framework of the Malaysian modern financial system, which is based on conventional norms. Despite
the variability of economic situations, especially the economic turmoil of the late, the Bank Islam has been able to sustain and grow.
Nevertheless, to survive, and to compete with the existing and more established conventional banks, Bank Islam has to show good and convincing performance with its Islamic accountability norms. The bank should win people's trust and prove that Islamic banking system is indeed the best and most practical as an alternative financial system.
Actions (login required)