Siriphanich, Panatda (2018) Incorporating intercultural communicative competence components into the English for tourism curricula in Southern Thailand universities. PhD. thesis, Universiti Utara Malaysia.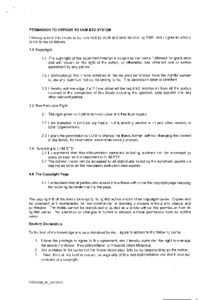 Preview
Text




DepositPermission_s93640.pdf


Download (29kB) | Preview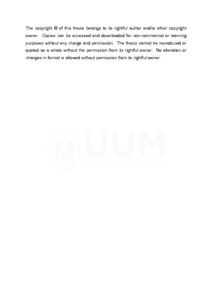 Preview
Text




s93640_01.pdf


Download (1MB) | Preview

Preview
Text




s93640_02.pdf


Download (529kB) | Preview
Abstract
Successful intercultural communication needs both language and cultural knowledge but in Thailand, English proficiency of Thais and Thai students are very low and the present English curricula including teaching practices do not integrate Intercultural Communicative Competence (ICC) which is important for intercultural interactions. The study of Incorporating ICC Components into the English for Tourism Curriculum in Southern Thailand Universities investigated the key components of ICC which are needed for undergraduate students who have high potentiality to work in tourism domain after graduation. Mixed method approaches were employed to find out (1) the appearance of ICC components in the present English for Tourism curriculum in five universities in Southern Thailand, (2) the importance of ICC from the students', lecturers', ICC academics', tour guides', and employers' perspectives, (3) the most required ICC skills and dispositions for the undergraduate students, (4) the most relevant ICC skills for undergraduate students from the ICC academics' perspectives, (5) the teaching practices of English for tourism courses. There were 857 participants consisted of 191 students, 5 lecturers, 3 ICC academics, 312 employers, and 346 tour guides and all of them were purposive samplings. The findings from the study revealed that most of the English for Tourism curricula did not include ICC curriculum elements especially the geo-political context and developmental factors. The majority of the participants agreed that ICC is very important and attitudinal dimension of ICC is the most important. Considering about required skills and dispositions, it was clear that the majority of students, employers, and tour guides agreed that tolerance of ambiguity was very important while the lecturer thought that empathy was the most important disposition and the ICC academics revealed that flexibility was as important as ability to adapt to new situations. Furthermore, the ICC academics agreed that skills of discovery and interaction was very important and the activities in class which help to promote them should be problem base, the materials used in classes should be authentic, and the activities should let the students explore about cultural differences. In fact, the tasks and activities which were employed in present English for Tourism courses in five universities put the weight on attitudinal dimension. Finally, it can be conclude that the ICC curricula in five universities in Southern Thailand need to focus more on skills dimension and knowledge dimension. The result of this study can minimize the scope of ICC in pedagogy relates to tourism domain and can be adapted in other ICC researches.
Actions (login required)