Awanis, Ku Ishak (2006) The Relationship Between Deviant Behaviors of MARA Employees in Northern Malaysia With Its Predictors. Masters thesis, Universiti Utara Malaysia.
PDF




awanis.pdf


Restricted to Registered users only
Download (11MB)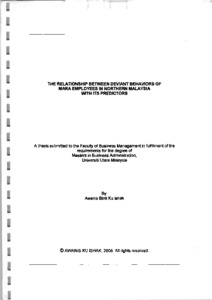 Preview
PDF




awanis.pdf


Download (1MB) | Preview
Abstract
Workplace deviant behavior in the workplace has become a serious and costly problem in the society and in organizations. Behaviors such as insider trading,
embezzlement of funds in banks and finance industry, discrimination against minorities, cybercrime, contract fraud and intentionally delayance of work had created losses to organizations. Significance of workplace deviant behavior and its costs signifies the need for theoretically focused, specific, & systematic study of
this behavior. Despite assertions on employees who condoned law tolerance in the workplace or that they were noncompliant at times during their tenure, these
assertions were usually secondary importance. Hands-on research referred the sinister side of workplace deviant behavior especially on employee behavior is deemed insufficient. Nevertheless, few scholars have attempted to examine workplace deviant behavior. These studies did not emphasize on understanding in workplace deviant behavior comprehensively, resulted insufficient information on
the subject. In Malaysia, few studies were carried out on manufacturing employees and hotel employees but none for other employees in other industries. Therefore the study will address the shortfall from government organization perspective. It will focus on workplace deviant behavior of employees in government sector specifically MARA employees in three states, Perlis, Kedah and Penang. Variables that influence workplace deviant behavior are such as personality-related factor (negative affectivity), job-related factor (job satisfaction) and organizational-related factors (organizational commitment and organizational justice) and also demographic factors such as gender, age and tenure. Hence the research aims to
determine types of deviance employees engage in at the workplace, to determine the effect of Negative Affectivity, Job Satisfaction, Organizational Commitment and Organizational Justice, as well as demographic factors gender and age on Workplace Deviant Behavior of MARA civil servants and to determine the difference of age, gender and tenure on Workplace Deviant Behavior. It was found
that there were relationship between workplace deviant behavior and its predictors.
Actions (login required)