Wan Nazihah, Wan Mohamed (2018) Mobile technology acceptance among English language academic at Universiti Teknologi MARA. PhD. thesis, Universiti Utara Malaysia.
Text




DepositPermission_s92517.pdf


Restricted to Repository staff only
Download (27kB)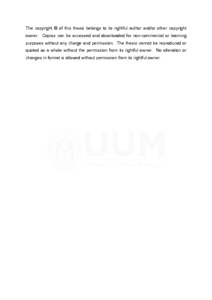 Preview
Text




s92517_01.pdf


Download (1MB) | Preview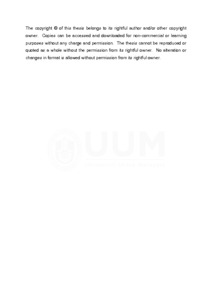 Preview
Text




s92517_02.pdf


Download (545kB) | Preview
Abstract
Implementing technology in teaching and learning is advanced by mobile technology devices via wireless communication network. Extraordinary growth of mobile phone users has led to mobile learning that enables universities to implement teaching and learning practices of anywhere and anytime. However, this requires that educators equip themselves with relevant skills in using mobile technology devices. Based on technology acceptance literature, this study aims to identify the determinants that affect behavioural intention of the English language lecturers in Academy of Language Studies to adopt mobile technology devices. Applying Technology Acceptance Model (TAM), the research model formulated three external variables; subjective norm, self-efficacy and prior mobile technology experience; three main determinants of perceived usefulness, perceived ease of use and behavioural usage; and three key moderators of age, gender and university culture. A total of 337 questionnaires from 13 state campuses of Universiti Teknologi MARA (UiTM) were analysed based on Structural Equation Modelling (SEM) approach using Analysis of Moment Structures (AMOS). Significant findings were found for the main relationships except for self-efficacy which did not influence perceived usefulness while perceived ease of use had no relationship with behavioural intention in using mobile technology devices. Perceived usefulness was a mediator for subjective norm and prior mobile technology experience towards behavioural intention. However, only age moderated the relationship between perceived usefulness and behavioural intention. Although university culture did not display moderation effect, the study identified the elements that influence the working culture of the lecturers. Based on the findings, it is proposed that UiTM conducts training workshops and clearly describes the policy of the university regarding mobile devices usage in teaching and learning practices. UiTM's initiative will assist educators in using mobile technology devices towards fulfilling the aspiration of the university and nation to utilize ICT in achieving quality teaching and learning in Malaysia.
Actions (login required)