Teoh, Sok Yee (2017) The moderating effects of owner-managers' personal values on the relationship between corporate social responsibility drivers and practices. PhD. thesis, Universiti Utara Malaysia.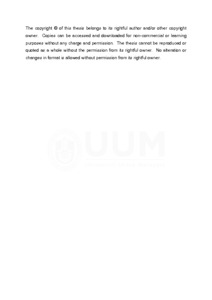 Preview
Text




s92357_01.pdf


Download (3MB) | Preview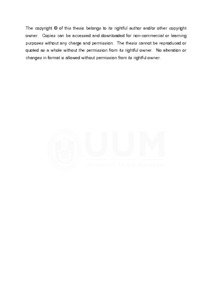 Preview
Text




s92357_02.pdf


Download (7MB) | Preview
Abstract
While corporate social responsibility (CSR) among large corporations has been widely
investigated, it is often overlooked among small and medium-sized enterprises (SMEs) as their involvement in CSR activities is often based on less formalised business strategies, and more on the ethical concerns of the owner-managers. However, recent trends show that there is growth in CSR activities among manufacturing SMEs. Hence, this study aimed at examining the influence of stakeholders (employee, local community, customer, government, competitor and supplier) and performance on CSR participation
among Malaysian manufacturing SMEs. This study also examined the moderating effects of personal values (religious, economic, social, theoretical, political and aesthetic) on these relationships. Structured self-administered questionnaires were distributed to SME owner-managers using the simple random sampling technique. Usable responses were received from 203 SMEs, giving a response rate of 13. 7%. Partial least square structural equation modelling (PLS-SEM) was subsequently performed using Smart PLS. The results indicate that employees and local communities are positively related, while suppliers are negatively related, to SME-CSR participation. Customers, governments, competitors and performance are insignificant drivers for CSR practices. Owner managers' personality like economic, social and aesthetic values can moderate the relationship between employees and CSR participation. A strong positive association exists between the employee factor and CSR practices when these three values of the SME owner-managers are high, and vice versa. Religious values can moderate the association of suppliers and performance with CSR participation. The relationship
between suppliers and CSR participation is strengthened when SME owner-managers'
religious values are high. The results also reveal that SME owner-managers with low
religious value are concerned with the economic benefits of CSR practices and vice versa. Political and theoretical values do not moderate the relationship between CSR drivers and CSR practices. Integrating stakeholders into the institutional theories in explaining CSR participation will enrich the existing literature.
Actions (login required)