Gorondutse, Abdulahi Hassan (2016) The moderating effects of environmental munificence on the relationship between business level strategy and performance of hotels in Nigeria. Masters thesis, Universiti Utara Malaysia.

Preview
Text




s819724_01.pdf


Download (1MB) | Preview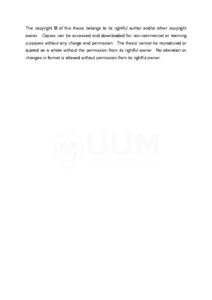 Preview
Text




s819724_02.pdf


Download (583kB) | Preview
Abstract
The study aims to examine an association between business level strategy (cost leadership strategy and differentiation strategy) on the performance of Nigerian hotels, with the moderating variable of environmental munificence. Hotels industry is a vital tool for the economic growth in Nigeria and it constitutes an important basis of the economic development of the country. As a result of a thorough review of literature, a model was proposed to examine these relationships. This research applied census sampling to gather data from owners/managers of Hotels in Kano State North-West of Nigeria using questionnaire survey design. The study employed descriptive and inferential statistics to analyze the data collected using SPSS statistical package software and smart partial least squares software. The findings of this study indicate
that cost leadership strategy have direct significant positive relationship with hotels
performance, and surprisingly differentiation strategy was not statistical significance
to hotels performance, whereas environmental munificence was found to moderates the relationship between cost leadership strategy, differentiation strategy and performance among hotels. These clearly show the need for sound business level strategy activities, as well as the need for effective environmental munificence ideas among the hotels managers and emphasis should be given to differentiation strategy.
The result signifies the appropriateness of PLS in analysis and has contributed better
understanding on effect of business level strategy on hotels performance. Similarly,
finding of this study can assist practitioners and policy makers in hotels industry support in designing strategic decisions for superior performance. Finally, study implications for theory and practice, limitations, conclusions as well as direction for future research were provided and discussed.
Actions (login required)